Iran
IRGC chief to Tel Aviv: Threats against Iran will only shorten Israel's life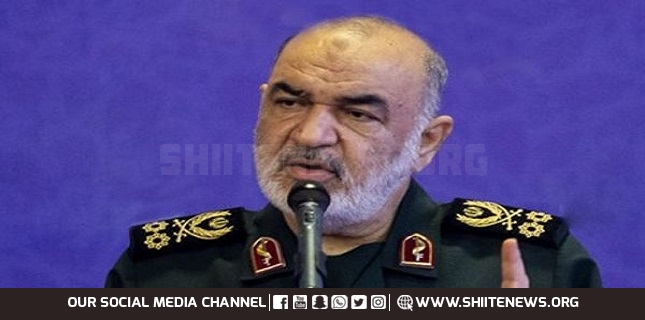 The chief commander of the Islamic Revolution Guards Corps (IRGC) has warned Israel that threats against the Islamic Republic will only shorten the Israeli regime's life.
Major General Hossein Salami made the remarks in a meeting with a group of individuals active in the field of cyberspace on Wednesday, three days after David Barnea, director of Israel's Mossad spy agency, threatened to hit Iran's "highest echelon … in the heart of Tehran."
"The Zionists are grappling with many problems, and signs of their decline are evident. Thus, they have resorted to empty rhetoric and threats to assassinate our commanders," he said.
"Go ahead if your previous assassination operations have increased your security. However, you should know that if you make threats against [Iran's] security, we will have more options and your life will be cut short," he said, addressing the Israeli officials.
The IRGC chief commander also noted that the Islamic Republic has managed to thwart almost all of the enemy's destructive and dangerous strategies over the past 45 years while the US has failed to even support its allies.
"The wars in Afghanistan, Syria, Lebanon and Iraq showed that the military option is no longer a viable solution for them (the Americans) and that their plots to install puppet governments have failed in this region," he added.
"They cannot even provide full support for the Zionist regime, and this inability has turned into an unwillingness to some extent," he said, adding that the Israelis are gradually losing hope of continued US support.
After months of being snubbed by US President Joe Biden, Israeli Prime Minister Benjamin Netanyahu will finally meet him next week on the sidelines of the UN General Assembly, not at the White House.
Washington has frequently expressed unease with several of Tel Aviv's policies, including its plan to radically overhaul the regime's judicial system and surging atrocities against Palestinians in the occupied West Bank.
Elsewhere in his remarks, Salami said that the enemies can no longer intimidate Iran with military aggression and sanctions as the decade-long embargo imposed on Iran has, in fact, propelled the nation's advancements in technology, innovation, and societal management.
Iran, he asserted, has launched satellites into space, constructed power plants, dams, roads and railways, and unveiled large petrochemical projects despite the sanctions.
"These facts show that Iran is a real power that cannot be forced to … submit to any superpower," Salami said.
He also emphasized that the enemies' strategies to isolate Iran and destabilize the country have all failed.