Iran
Enemy's Daesh-like attacks against Islamic Revolution show extent of its hatred: Raeisi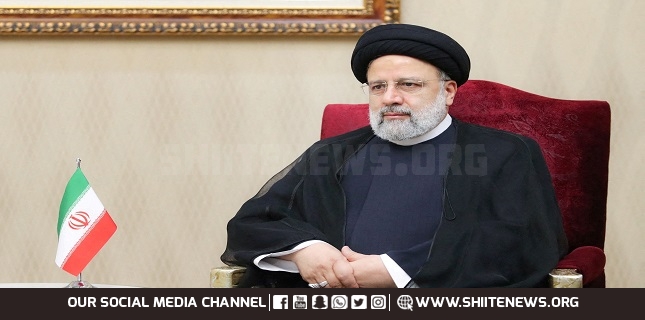 Iranian President Ebrahim Raeisi says enemies launched "Daesh-like" attacks against the Iranian people and the Islamic Revolution during the recent riots, stressing that perpetrators of the attacks against the Iranian security forces will be soon brought to justice.
He made the remarks in a ceremony on Thursday in Tehran to commemorate families of security forces who lost their lives during the recent foreign-backed riots in Iran.
"The enemy was seeking to attack the Islamic revolution, values, and people in the new hybrid war and plot but vigilant children of the nation stood up against this aggression," he said, noting that the plots of enemies in the past 40 years against the Islamic Republic has been doomed to failure.
"The enemy attacked people and the Revolution like Daesh during recent incidents which showcased its savagery, enmity, malice, and hatred toward the Islamic Revolution and its values," he said.
Raeisi's remarks come after a spate of terror attacks across the country in recent weeks, killing a number of policemen, members of Basij volunteer force and civilians.
Foreign-backed riots erupted in mid-September following the death of a young woman in police custody.
In one of the terror attacks, heavily-armed terrorists opened indiscriminate fire at a busy roundabout in the southwestern city of Izeh in Khuzestan province on November 16, killing seven people – including security forces and civilians – and injuring several others.
There were also similar terror attacks in Isfahan and Mashhad, fatally targeting young Basiji members.
"Today's peace in Iranian cities is owed to the blood of these young martyrs who stood against attacks of rioters," Raeisi said, adding that "disappointment of the enemies" was another result of these martyrs' blood.
Slamming the enemies' support for terrorism, he said, they shout the slogan of "life" for Iranian people as their armed agents kill Iranian citizens at Shah Cheragh shrine.
The president was referring to a terrorist attack in Shiraz on October 26 in which 15 pilgrims, including a woman and two children, were martyred and 19 others wounded in at Shah Cheragh holy shrine.
The Daesh Takfiri terrorist group immediately claimed responsibility for the attack in a statement on the group's Telegram channel.
The enemy's media empire tries to distort realities through fake stories, Raeisi noted.
He also slammed the false claims of the West on the rights of people. "They claimed to support democracy in Afghanistan, however, the results of their military campaign in the country were 35,000 disabled children and demolition of houses and cities; yet, they claim to be life-giving. To whom in the world have they given life that they make such a claim?"
Answering calls of martyrs' families to detect and bring to justice rioters and perpetrators of attacks against security forces, Raeisi said responsible authorities will followed it up "with determination".
According to a statement by Iranian intelligence bodies, foreign terrorists and spy agencies have a key role in the riots which according to reports have claimed the lives of at least 50 security forces.