Iran
Top Sunni cleric says burning people's property is not democracy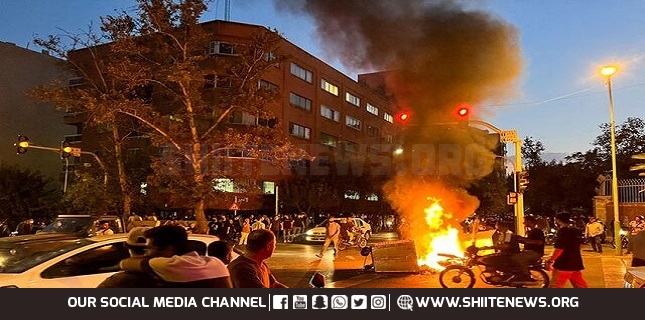 A top Iranian Sunni cleric has called for calm in the face of enemy plots to destabilize the country, saying that fomenting chaos and igniting people's property are in clear contradiction to fighting for freedom and democracy.
Addressing worshippers, Mamousta Fayeq-Rostami, the Friday prayer leader of the Kurdish city of Sanandaj, said Islam opposes any form of bloodshed, and the killings and acts of sabotage seen during the nationwide riots are not acceptable according to the teachings of the divine religion.
"Democracy and freedom are important principles in Islam, but the interpretation of freedom and democracy is not anarchy," he said. "Burning people's property is not democracy, but rather, these actions are against the religion and are the opposite of democracy."
Foreign-backed riots have hit various Iranian provinces since 22-year-old Kurdish woman Mahsa Amini died in hospital on September 16, three days after she collapsed in a police station. An investigation has attributed Amini's death to her medical condition, rather than alleged beatings by police forces.
The violent riots, meanwhile, have claimed the lives of dozens of people and security forces, while also allowing terrorist attacks across the country. In the last two months, the terrorists have set fire to public property and tortured a number of Basij members and security forces to death.
On October 26, a Daesh-affiliated terrorist attacked the Shah Cheragh shrine in the southern province of Fars before the evening prayers, killing at least 15 pilgrims — including a woman and two children — and injuring 40 others.
At least seven people were also killed after terrorists opened fire at people and security forces at a crowded market in Khuzestan province's Izeh around sunset on Wednesday.
'Children should not be orphaned in name of protesting'
Fayeq-Rostami also told worshippers that the enemy is using its media capacity to turn the people and government of Iran against each other in order to secure its own interests.
He recalled the Kurdish people's heroic fight against the invading regime of Saddam Hussein during the Iran-Iraq war in the 1980s, saying, "10,000 people were massacred in Kurdistan due to the chemical bombardment of our enemies, but there was no sight of the fake defenders of human rights at that time."
He argued that no one is denying that there are problems in the country, but the problems need unity and struggle to be overcome, rather than bloodshed and destruction of public property.
"Children should not be orphaned in the name of protesting. The enemy seeks to create insecurity in our society and will hatch any conspiracy to achieve this goal," the cleric said.
"Religious scholars and authorities should invite the people toward peace through their tact and logic, and they should provide the basis for solving the problems by creating a discourse," he added.