Iran
Iran president hopes Iraqi government will be formed soon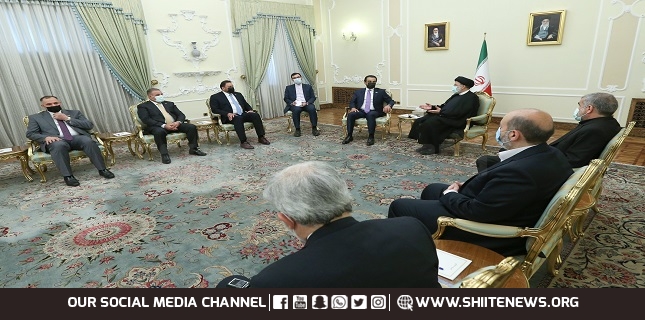 Iranian President Ebrahim Raeisi has expressed hope that Iraq's new parliament will soon elect the country's president as a step towards forming a new government in the Arab country.
"I hope that lawmakers at the Iraqi parliament will, through understanding and unanimity, elect a president and a prime minister [towards] establishment of a cabinet as soon as possible to help resolve the problems of the Iraqi people and boost all-out ties with Iraq's neighbors particularly Iran," Raeisi said told Iraq's new Parliament Speaker Mohammed al-Halbousi in Tehran on Wednesday.
He said that Tehran and Baghdad are determined to shore up ties in all fields, stressing that nothing can tarnish the deep-rooted and friendly ties between the Iranian and Iraqi nations.
"We are not fine weather friends," he noted.
The Iranian president described unity and solidarity among different Iraqi ethnic and political groups as key to achieving prosperity in the country, warning that any division among religious or ethnic groups would pave the way for enemies to infiltrate the country at the cost of national interests.
Parliamentarians must first elect a president, with a two-thirds majority. The president will then ask the largest bloc in parliament to form a government.
Iraqi lawmakers have so far failed to elect a new president.
Under Iraq's current governing system, the prime minister is a member of the Shia majority, the speaker is a Sunni and the largely ceremonial role of president is held by a Kurd.
The Iraqi parliament speaker, for his part, said his visit aimed to underline the need to reinforce the friendly ties between the two countries, saying his accompanying delegation comprised of representatives of different religious and ethnic groups attested to his nation's willingness to consolidate friendship with Iranians.
He said that the two nations should boost cooperation and synergy to build a better future.
Halbousi arrived in the Iranian capital, Tehran, on Wednesday morning for talks with high-ranking officials of the Islamic Republic.
Halbousi has been the speaker of the Iraqi parliament since September 2018.