Iran
Raeisi in Qatar: Iran sticks up for friends, lines up deals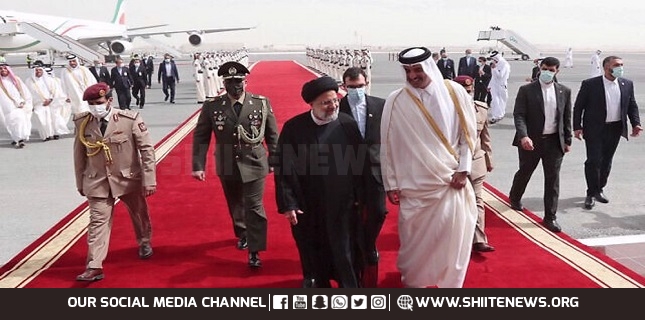 President Ebrahim Raeisi has hailed Iran and Venezuela for standing against Western domination and imperialism, saying the most valuable asset of the two countries is their people who have decided to withstand the hegemonic powers' excessive demands.
Raeisi made the remark in a meeting with Venezuelan Foreign Minister Felix Plasencia Gonzalez on the sidelines of the sixth summit of the Gas Exporting Countries Forum (GECF) in the Qatari capital of Doha on Monday.
The president hailed Venezuela for managing to overcome sanctions with the support of its people and through resistance and planning despite intense pressure from the West,saying "today we see that the situation in that country is improving."
Raeisi expressed Tehran's readiness to expand bilateral cooperation with Caracas in various fields. He said the Latin American countries are a telling example of the certainty of triumph against the hegemony of world powers.
"Countries such as Venezuela and Iran, more important than their oil and gas reserves, have decided to resist excessive demands [of the West]. This is our countries' biggest asset," the Iranian president said.
Raeisi said relations between Iran and Venezuela are strategic that must be vigorously upheld. He said agreements signed between the two countries in the past should be implemented and operationalized as soon as possible.
Gonzalez, for his part, underscored Venezuela's strong opposition to US imperialism.
He said, "The United States wants all nations to abide by its wishes but the Venezuelan people have stood firm against Washington's aspirations and will not allow it to obstruct Venezuela's leadership role in the Latin American nations' fight for their rights and freedom."
The top Venezuelan diplomat also stressed his country's interest in further strengthening relations with Iran.
National assets abroad
Also on Monday, Raeisi said in a meeting with Iranians residing in Qatar that Iran's diaspora abroad is a national asset and that Tehran is fully committed to protecting their rights.
Iranian expats, he said, have the same rights as those living in Iran and the government has duties and responsibilities towards them.
Raeisi said Iranians living overseas consider their country to be the best place for investment and economic activity, stressing that efforts should be made to pave the way for the realization of this goal within Iran's borders more than before.
Raisi's visit is the first to Qatar by an Iranian president in 11 years. Earlier, Qatar and Iran signed 14 memoranda of understanding in the fields of aviation, trade, shipping, media, cancellation of visa requirements, electricity, standards, education and culture.
"We view this visit as a step towards activating diplomacy with neighbors, especially Persian Gulf countries, and to use their capacities to develop political and economic ties," Raeisi said before departing Tehran for Doha early Monday.
"Iran seeks to enhance these relations as our goal is regional convergence," said the Iranian president in joint remarks with Qatar Emir Sheikh Tamim bin Hamad Al Thani.
Qatar has good ties with Iran, with which it shares a giant gas field. Tehran supported Doha after Saudi Arabia and its Arab allies imposed a boycott on Qatar in mid-2017.
President Raeisi will attend a gas exporters' summit in Doha on Tuesday. The forum represents nations that hold 70% of the world's proven gas reserves.
In addition to Qatar and Iran, the forum includes Russia, Egypt, Libya, Nigeria, Algeria, Bolivia, Equatorial Guinea, Trinidad and Tobago and Venezuela, in addition to the seven observer countries of Angola, Azerbaijan, Iraq, Malaysia, Norway, Peru and the United Arab Emirates.