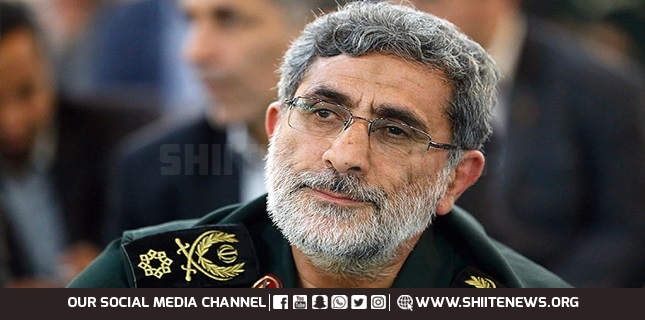 Chief Commander of the Quds Force of the Islamic Revolution Guard Corps (IRGC), Major General Esmail Qa'ani, will travel to the Iraqi Kurdistan Region to discuss the latest issues in the region with Kurdish officials.
Earlier, Al-Alam correspondent in Iraq reported that Major General Esmail Qa'ani met with the Iraqi Parliament Speaker, Muhammad al-Halbousi, and several Iraqi Sunni political leaders in Baghdad on Wednesday.
Iraqi media sources reported yesterday that the chief commander of Iran's IRGC Quds Force visited Baghdad and met with President Barham Saleh, Prime Minister Mustafa al-Kazemi, and some political officials and leaders of resistance groups.
During the meetings, General Qa'ani stressed that Iraq needs stability and the preservation of internal unity. It is necessary to refrain from any action that threatens the security of Iraq.
He also stressed the necessity of taking into account the demands of people and protesters to the election results within the framework of the law.