Iran
Iran's president advises region to draw up roadmap for peace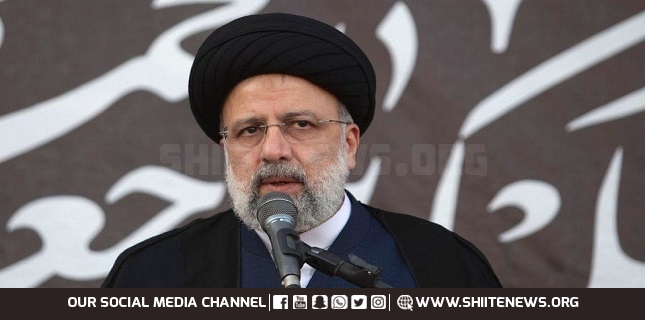 President Ebrahim Raeisi says it is only the region's own countries that can decide on its fate, advising regional cooperation toward drawing up a peace roadmap benefitting the situation in this part of the world.
President Ebrahim Raeisi made the remarks to Iraqi Prime Minister Mustafa al-Kadhimi during a phone call made by the latter on Tuesday.
Such a plan, the Iranian chief executive said, has to "light up the path to sustainable security, stability, and peace."
"Foreign interference in the region's affairs does not pave the way to either security and stability, nor expansion and development," he added.
The countries' common agenda features an aspiration for creating an "independent, united, safe, prosperous, and advanced" Iraq, Raeisi asserted.
Iran has always backed and will continue to support any measure that could stabilize the situation in Iraq and enhance the Arab country's role in the region.
'Bilateral ties secured by common causes'
The president also said the countries' relation towards each other exceeded that of just two neighboring countries.
"The Iranian and Iraqi nations enjoy common causes. Therefore, the enemies' heavy efforts [to damage the ties] has not been able to create any problem for them," he said.
The president also laid emphasis on the need for implementation of the two sides' joint projects, including the railway connecting the Iranian border town of Shalamcheh to the northern Iraqi city of Basra.
The officials also condoled with one another over the Muslim mourning month of Muharrah, with the Iranian president hoping that the Arab country would be able to host millions of pilgrims again once the coronavirus' pandemic was over.
'Iran true partner for Iraq'
Al-Kadhimi, for his part, again congratulated Raeisi on the occasion of the onset of the Iranian official's career as the country's president.
Corroborating Raeisi's insistence on the importance of regional convergence, he said the region was going through big challenges these days, resolution of which required wisdom, patience, and regional cooperation.
"Tehran is considered to be a true partner for Iraq and has always stood by the Iraqi government and people in tough circumstances," the Iraqi premier stated.
The Islamic Republic that has invariably associated great importance to Iraq's sovereignty and integrity, boosted its military assistance of the country in 2014, when it was overwhelmed by the Takfiri terrorist group of Daesh.
The assistance, which has taken the form of military advisory contribution to the Iraqi army's operations, helped Baghdad defeat the terrorists in late 2017.
The Islamic Republic's efforts aimed at enhancing its neighbor's situation, has now also focused on helping Iraq reconstruct itself from the ruins of Daesh's campaign.