Iran
Zionist regime facing eternal defeat, IRGC cmdr.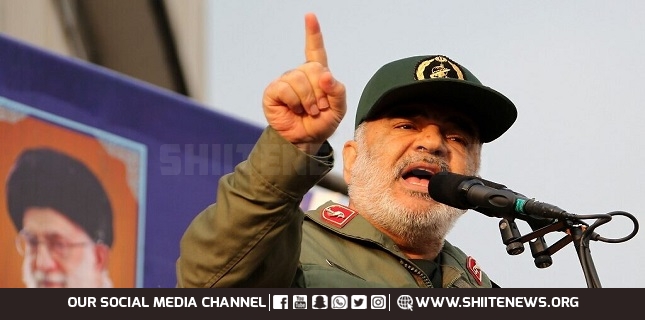 In a show of support for the Palestinian nation, a group of Iranian protesters have gathered in the capital Tehran to denounce Israel's relentless brutal attacks on the Gaza Strip.
Hundreds of ralliers gathered at Imam Hussein square in Tehran on Wednesday, holding banners and placards in condemnation of Israeli crimes.
They also chanted slogans against the Zionist regime and its closest ally, the United States.
Addressing the gathering, the chief commander of the Islamic Revolution Guards Corps, Major General Hossein Salami, pledged Iran's unwavering support for the Palestinian nation.
He also praised the strong resistance put up by the Palestinians in the face of the Israeli raids, saying, "More than two-thirds of Zionist cities were attacked by Palestinian rockets from Gaza, leaving no safe haven for them. All of the Israeli regime's missile defense systems have failed against thousands of Palestinian missiles."
He noted that Israelis were "frustrated" in the face of the "revived" Palestinian resistance.
Reiterating that the defeat of Israel is a sign of the defeat of the United States, Salami said, "Today, Palestine is [a] global [issue] and its geography is no longer [limited to] the Gaza Strip. The Americans and the Israelis are stuck between two defeats; if they retreat, they have failed, and if they stand, they have failed, too."
Salami said that Israel has suffered "an eternal defeat" after its missile factory was targeted, the explosion at the Haifa refinery, which were all followed the regime's act of sabotage at Iran's Natanz nuclear facility.
Israel's latest bombardment of the Gaza Strip since May 10 has killed at least 227 people, including 64 children and 38 women.
More than 11,300 Palestinians have also been injured in the Israeli airstrikes that have targeted the coastal enclave's infrastructure, destroying homes, roads, medical facilities, schools, power lines and sanitation and sewage systems across the impoverished territory, which has been under Israel's siege for more than a decade.
Israeli Prime Minister Benjamin Netanyahu said on Tuesday that the attacks will continue "as long as necessary to restore calm" to Israelis.
According to the United Nations, more than 58,000 Palestinians in Gaza have been displaced from their homes, many huddling in UN-run schools that have in effect become bomb shelters.
"In Gaza, I am deeply troubled by reports of high-frequency Israeli bombardments. There is no safe place in Gaza, where 2 million people have been forcibly isolated from the rest of the world, for over 13 years," said a statement by Under-Secretary-General for Humanitarian Affairs and Emergency Relief Coordinator Mark Lowcock.
"The hostilities have displaced over 58,000 Palestinians, many of whom are seeking refuge in UNRWA schools across Gaza. I am concerned about the transmission of COVID-19 between vulnerable people huddled in crowded shelters and the inability of the healthcare system to cope," he added.
In response to Israel's raids, resistance fighters have fired thousands of rockets into the occupied territories.
Iran has called on the international community, particularly Muslim countries, to take decisive action against Israel's attacks and atrocities.