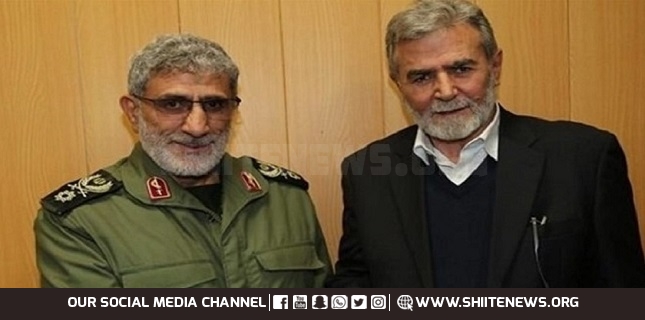 Brigadier General Ismail Qaani, commander of the IRGC's Quds Force, spoke by telephone on Saturday night with Ziad al-Nakhaleh, secretary-general of the Palestinian Islamic Jihad movement.
Brigadier General Ismail Qaani, the commander of Islamic Revolutionary Guard Corps Revolutionary Guard's Quds Force, and the Secretary-General of the Palestinian Islamic Jihad Movement discussed the latest developments in the conflict in the Occupied Territories.
A few hours ago, Iranian commander Isamaeil Qaani had a telephone conversation with Ismail Haniyeh, the head of the political bureau of the Palestinian Islamic Resistance Movement (Hamas).
In this telephone call, Brigadier-General Qaani praised the unique and successful response to the resistance of the Zionist enemy and the defense of the Palestinian people.
The commander of the Quds Force of the Islamic Revolutionary Guard Corps also condemned the brutality of the occupying regime.
Ismail Haniyeh also praised Iran's stance in support of the Palestinian people, emphasizing that the battle of Quds is the battle of all the children of the Palestinian nation.
Clashes between the Palestinian resistance and the Israeli regime began on Monday, after the end of the resistance group's ultimatum against the Israeli regime over the need to end its aggression in Quds and Al-Aqsa Mosque.
The Palestinian Ministry of Health announced on Saturday that at least 139 Palestinians, including 39 children are martyred and more than 950 others, have been injured in a new round of Israeli attacks on the Gaza Strip since last Monday.
The Al-Aqsa Mosque and its neighboring area, especially the Bab al-Amoud neighborhood, have been the scene of Israeli militant attacks on Palestinians in recent days.
As Palestinians protest against the Israeli plan has increased, Israeli militant attacks and clashes with Palestinian protesters have intensified too.