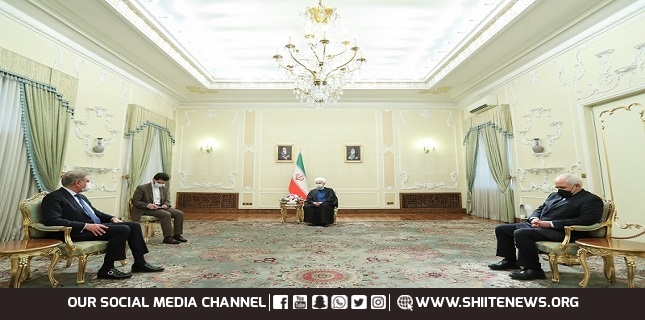 President Hassan Rouhani has expressed Iran's readiness to promote cooperation with Pakistan in helping the peace process in Afghanistan.
"Iran and Pakistan, as the most important and instrumental neighbors of Afghanistan, must play their role in helping the management of the peace process in that country through interaction and cooperation, and the Islamic Republic of Iran welcomes cooperation with Pakistan and Afghanistan to play its role in this regard," he said.
Rouhani made the remarks in a meeting with the visiting Pakistani foreign minister, Shah Mehmood Qureshi, in Tehran on Wednesday.
He also pointed to a US decision to withdraw its forces from Afghanistan, saying the US military presence in the region has not contributed to peace and stability.
US President Joe Biden last week announced the withdrawal of all American forces from Afghanistan by September 11, saying it was time that America's longest-running came to an end.
The announcement came despite a February 2020 deal between the Taliban and the administration of former President Donald Trump, according to which Washington was supposed to withdraw all the remaining troops from Afghanistan by May 1 in return for the Taliban pledging to stop attacks on US forces.
The Taliban say the United States has breached its agreement with the group for the withdrawal of American forces from Afghanistan.
The US, which invaded Afghanistan as part of Washington's so-called war on terror, has some 3,500 troops in the country.
Elsewhere in his remarks, Rouhani underlined the need to endure peace and stability in the region with a focus on regional mechanisms, saying security is a common concern for Iran and Pakistan.
"Security is a common concern for the two countries and it is essential to boost cooperation toward that goal," Rouhani said, stressing the need to promote security along Iran-Pakistan border areas.
Rouhani also called for further promotion of Tehran-Islamabad ties in different sectors, including economic, trade and border markets.
He stressed the need to implement the agreements already singed between the two countries to develop cooperation and voiced Iran's readiness to meet Pakistan's energy needs.
For his part, Qureshi lauded ties with Iran as unique and fraternal and emphasized on strengthening and consolidating these relations in all fields.
He echoed Pakistani Prime Minister Imran Khan's call for further promotion of ties with Iran, expressing hope that in the near future, bilateral relations will enter a new phase and "we will witness new openings in the development of relations between the two countries, especially in the fields of trade and economy."
He also appreciated Iran's support for his country and backed the 2015 Iran nuclear deal — the Joint Comprehensive Plan of Action — as a "big diplomatic achievement."
"We are very happy that the JCPOA has been preserved with the efforts of Iran, and today we are witnessing negotiations again to revive this multilateral agreement," he said.
Qureshi arrived in Tehran on Tuesday on a three-day official visit for talks on mutual relations and the latest regional security issues with senior Iranian officials.
His visit is taking place at the invitation of his Iranian counterpart, Mohammad Javad Zarif.