Iran
Israel has long history of assassinating scientific elites across world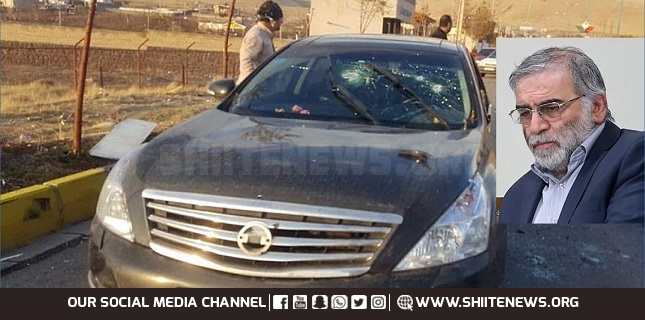 The assassination of Iranian prominent physicist and nuclear scientist Mohsen Fakhrizadeh, who played a leading role in the search for "homegrown test kits for COVID-19," carries fingerprints of the Israeli regime, which has long history of murdering scientific elites across parts of the world.
Fakhrizadeh, who headed the Iranian Defense Ministry's Organization of Defensive Innovation and Research (known by its acronym SPND), was targeted on Friday in a multi-pronged attack involving at least one explosion and small fire by a number of assailants in Absard city of Damavand County, Tehran Province.
Reacting to the brutal assassination, Iranian Foreign Minister Mohammad Javad Zarif said that there were "serious indications" of an Israeli role.
"Terrorists murdered an eminent Iranian scientist today. This cowardice – with serious indications of Israeli role – shows desperate warmongering of perpetrators," Zarif wrote on Twitter.
The top Iranian diplomat said the assassination of the senior Iranian nuclear scientist bears the clear hallmark of atrocities committed by the Israeli regime, which has already murdered a number of Iran's scientific elites.
Zarif further raised awareness about Tel Aviv's fingerprints in the murder and urged international denunciation and action.
"Terror attack on our scientist was indubitably designed & planned by a terrorist regime & executed by criminal accomplices," he wrote.
Iran's Ambassador to the United Nations Majid Takht-Ravanchi hailed Fakhrizadeh's significant role in combating COVID-19 in Iran.
"One of the latest services of Martyr Fakhrizadeh was his outstanding role in the development of the first indigenous COVID-19 test kit, which is a great contribution to our national efforts in curbing the COVID-19 pandemic at a time when Iran is under inhumane sanctions of the United States, strictly preventing our access to humanitarian goods including medicines and medical equipment," he said.
The Iranian official also called the attack an act of state-sponsored terrorism.
Fakhrizadeh joined at least four other senior Iranian scientists assassinated in Iran over the past decade.
Political observers maintain that an unconditional support by the United States and some other Western countries have emboldened Israel to violate international law by committing secret killings in keeping with its expansionist agenda in the region and elsewhere.
In recent decades, at least 43 times the US has used veto power against UN resolutions on Israel
US and Israeli spy agencies described Fakhrizadeh as the force behind Iran's nuclear energy program.
The New York Times quoted one American official — along with two other intelligence officials — saying that Israel was behind the killing of the scientist. It was unclear how much the United States may have known about the operation in advance, but the two sides are the closest of allies and have long shared intelligence regarding Iran.
Israel has acknowledged pursuing covert sabotage operations against Iran's peaceful nuclear program to gather intelligence.
Iran has long maintained that its nuclear program is strictly for peaceful purposes, not for weapons.
Iran signed the nuclear Non-Proliferation Treaty (NPT) — whose aim is to prevent the spread of nuclear arms and weapons technology — in July 1968 and ratified it in February 1970.
The Islamic Republic has repeatedly asserted that it has never sought and will never seek nuclear arms based on a fatwa (religious decree) issued by Leader of the Islamic Revolution Ayatollah Seyyed Ali Khamenei. The fatwa bans the production, possession and stockpiling of nuclear weapons and other weapons of mass destruction.
Iran demonstrated to the world the peaceful nature of its nuclear program by signing the Joint Comprehensive Plan of Action (JCPOA) with six world powers — namely the US, Germany, France, Britain, Russia and China — in 2015. The agreement was also ratified in the form of UN Security Council Resolution 2231.
However, Washington's exit in May 2018 and the subsequent re-imposition of unilateral sanctions against Tehran left the future of the historic agreement in limbo.
This is while the Israeli regime poses the biggest threat to regional and international peace and security by possessing tens of nuclear warheads in its arsenal.
Israel is not a signatory to the NPT, and has refused to either confirm or deny the existence of nuclear weapons in its arsenal.
The regime has been invariably blaming Tehran's nuclear energy program for "diversion" towards military purposes to supposedly rationalize its ceaseless fortification of its military with Washington's help.
The Tel Aviv regime is believed to have the Middle East's only nuclear arsenal with 200 warheads.
In addition, Israel's spy agency, Mossad, has a record of planning targeted assassinations of scientists inside Iran over the past years.
Yossi Cohen, who is the director of the Israeli spy agency Mossad, last year acknowledged having a "prestigious" assassination list at his disposal, claiming that targeting foreign influential figures is "not impossible."
Mossad is widely believed to have killed a number of Muslim and non-Muslim scientists worldwide over the past decades.
In 2018, the killing of 35-year-old Palestinian scientist Fadi al-Batsh in the Malaysian capital Kuala Lumpur took the wraps off a covert program of targeted killings of Palestinians deemed a threat by Israel.
Al-Batsh studied electrical engineering in the besieged Gaza strip before going on to earn a PhD in the same subject in Malaysia.
He specialized in power systems and energy saving and had published a number scientific papers on the subject.
In 2016, the assassination of a Tunisian aviation engineer with alleged links to the Palestinian resistance group, Hamas, has put the spotlight on Mossad.
Mohamed al-Zawari was shot dead outside his home in Tunisia's southeastern city of Sfax.
In 1967, Egyptian nuclear scientist Samir Naguib was killed in a car accident in the US. Naguib was reportedly planning to return to Egypt at the height of war with Israel to help launch Egypt's nuclear program when he was killed.
Another Egyptian nuclear scientist, Yahya al-Mashad, who headed Iraq's nuclear program, was killed in a Paris hotel room in 1980.
In 1991, Lebanese condensed matter physicist Rammal Hassan Rammal died in mysterious circumstances in France.
In 1993, Egyptian writer Gamal Hemdan died in a fire in his apartment in the Egyptian capital.
His relatives, however, claimed he was hit on the head and that the drafts of books he was writing had disappeared, and on top of them were topics about Zionism.
In 2004, Iraqi nuclear scientist Ibrahim al-Dhaheri was shot dead as he was riding a cab in Iraq's western city of Baquba.
Mossad is also believed to have been behind the assassination in 2010 of top Hamas commander Mahmud al-Mabhuh in a Dubai hotel.
Since its creation in 1948, Israel at the behest of the US has been involved in numerous assassinations and mysterious killings of scientists and academics across the Middle East, the US, Europe, Latin America and other part of the world.