Iran
Iranian president hailed the launch of Noor military satellite by IRGC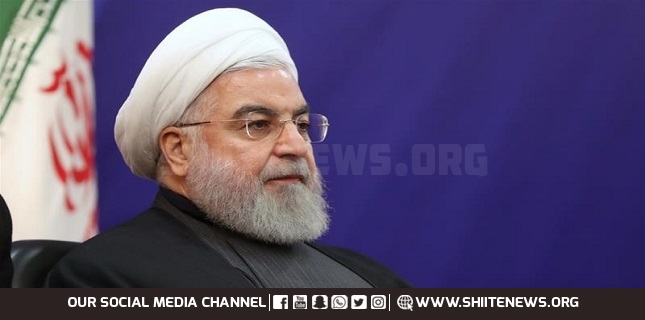 President Hassan Rouhani says a recent successful launch for a home-made satellite was proof that Iran has pursued a sound policy to develop its space sector.
In comments published on Friday, the Iranian president hailed the launch of Noor military satellite earlier this week by the Islamic Revolution Guards Corps (IRGC). It was a right move in the right direction, he said.
"This success is a sign that strengthening the space sector in the country and in the armed forces has been a correct and effective step," Rouhani said in a phone call with Defense Minister Brigadier General Amir Hatami.
The IRGC successfully put Noor-1 (Light 1) satellite into space on April 22, a move which irritated several Western countries.
The United States claimed that the launch showed that Iran could target other countries with its long-range missiles.
Washington and allies have even called the launch a breach of a United Nations resolution on a 2015 deal on Iran's nuclear energy program, something both Tehran and signatories to the treaty have dismissed as baseless.
Iranian authorities have stated on several occasions that the country's missile power is solely for defense purposes.
In his Friday comments, Rouhani reiterated that Iran should do more to further strengthen its space capabilities.
"We must try and do more than before to develop it (the space sector)," the president said.
He also touched upon a series of recent "provocations" by some countries in the Persian Gulf, saying Iran should move to keep its stabilizing role in West Asia.
"While maintaining our vigilance and (our) leading presence in the region, we should carefully pursue strategies that would ensure and strengthen stability and sustainable security in the region."
'Valuable success'
The chief executive felicitated the IRGC on the occasion of the launch operation during another phone call with the Corps' Chief Commander Major General Hossein Salami, IRNA reported. Rouhani called the achievement a valuable and national success.
There again, Rouhani pointed to the foreigners' provocative actions targeting the region, noting that the prowess and readiness possessed by the Iranian Armed Forces, especially the elite force, have always fitted within the framework of preserving regional stability, security, and fighting terrorism.
The Iranian defensive might "has invariably been received well by the world's freedom-seeking people," added the president.
For his part, General Salami expressed his gratitude towards Rouhani for his acknowledgment of the Corps' achievement, and expressed hope that the success world be followed by further enablement of the country's defense sector.
The country now needs "unity and integrity" more than ever, he added, asserting that the IRGC "is always in perfect readiness to confront the enemies' excessive demands, fight terrorism, and provide the region with sustaining stability and security."