Iran
Successful elections guarantee Iran's security, help resolve problems: Ayatollah Khamenei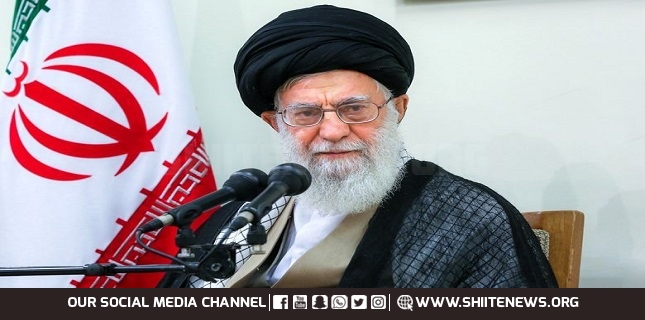 Leader of the Islamic Revolution Ayatollah Seyyed Ali Khamenei has called for a high turnout in the upcoming parliamentary elections, saying a lively vote guarantees the Iranian nation's security and contributes to efforts towards resolving the problems.
Addressing a group of Iranians hailing from various walks of life in Tehran on Wednesday, Ayatollah Khamenei described the elections as the country's "most essential issue" given its contribution to the appointment of worthy decision makers.
"If a general election takes place powerfully and correctly, all the existing problems will gradually be resolved," Ayatollah Khamenei said.
That Iran has regularly held various elections since the Islamic Revolution in 1979 is a sign of how the Iranian establishment has been firmly reliant on people's votes, the Leader said.
"Of course, the Islamic establishment is religious as well, and that is why democracy in Iran is 'Islamic democracy,'" Ayatollah Khamenei said.
The Leader said elections in Iran are among the world's soundest, and urged all people to take part in the upcoming parliamentary polls.
"Anyone who takes interest in the country, its security, the resolution of its problems, and the healthy turnover of elites should partake in the polls," Ayatollah Khamenei remarked.
The Leader said polls in Iran are a "threat to the enemies."
"A lively vote and people's all-out turnout at the ballot boxes will guarantee the country's security because enemies fear the establishment's popular support more than its armaments," the Leader said.
Ayatollah Khamenei recalled how some foreign media outlets had tried to downplay the Iranians' millions-strong presence on nationally-important occasions, while at the same time hyping up the foreign-backed riots by a few hundred people.
The Leader also invited the people to make a similarly huge presence in the Islamic 1979 Revolution's upcoming anniversary rallies on February 11, especially considering its coincidence with the 40th-day memorial for Lieutenant General Qassem Soleimani, the former commander of the Quds Force of Iran's Islamic Revolution Guards Corps (IRGC), who was assassinated together with his comrades in a US drone strike in Baghdad in early January.
The Leader said that by staging the Revolution, the Iranians managed to upend the foundation of thousands of years of absolute monarchical rule over the country with Imam Khomeini's guidance.
Ayatollah Khamenei described the upcoming mass rallies and elections as "two big tests facing the great Iranian people."