Iran
US taking revenge on Iraqi popular forces for defeating Daesh: Ayatollah Khamenei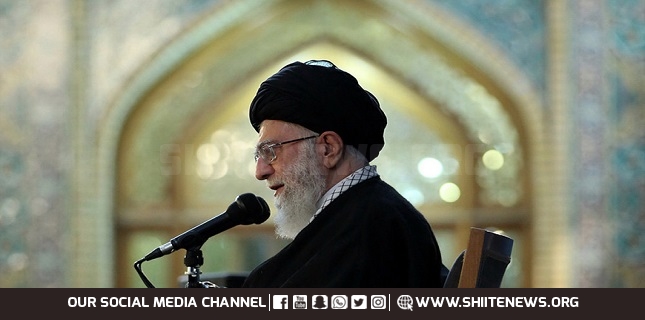 Leader of the Islamic Revolution Ayatollah Seyyed Ali Khamenei has strongly condemned the deadly American air raids that targeted the positions of Iraq's Hashd al-Sha'abi forces, saying Washington is in fact taking revenge on the popular forces because of the key role they played in defeating the Daesh terror group.
"You are witnessing what they [the Americans] are doing in Iraq and Syria. They are taking revenge on Hashd al-Sha'abi because it paralyzed and [eventually] eliminated Daesh, which they [the Americans] had created and nurtured," the Leader said at a meeting on Wednesday.
Ayatollah Khamenei said, "I myself, the government and the nation of Iran condemn the US malevolence in the strongest of terms."
The Leader made the remarks in reference to the latest US military aggression, which has drawn a wave of damning reactions from officials and movements across the region, and triggered furious public protests outside the US Embassy compound in Baghdad on Tuesday.
As many as 31 fighters from the popular forces lost their lives and dozens more sustained injuries in the US airstrikes that targeted their bases in Anbar Province, in western Iraq, near Syria's border, late Sunday.
Ayatollah Khamenei further responded to a tweet by Donald Trump, in which the US president threatened that "Iran will be held fully responsible for lives lost, or damage incurred, at any of our facilities. They will pay a very BIG PRICE!"
"For one thing, you are damned wrong because this matter has nothing to do with Iran. And for another, you ought to be reasonable and try to understand what the root causes of these incidents are," adding, however, that the Americans are far from being sensible.
"The Americans must realize how the regional people, including those in Iraq and Afghanistan, hate them for the crimes they have perpetrated, and that this hatred would eventually seep out somewhere," Ayatollah Khamenei pointed out.
-Washington taking revenge