Iran
Middle East
Iran, Russia condemn US military presence around oil fields in Syria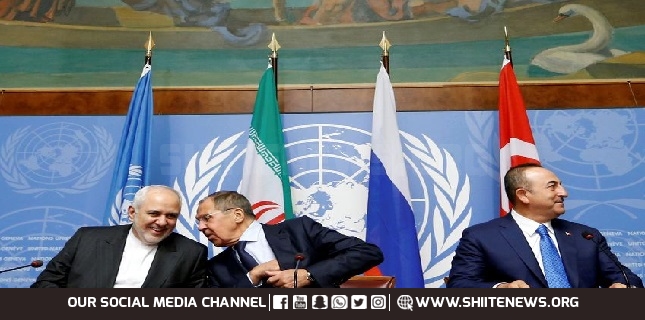 Iran and Russia have lashed out at US President Donald Trump's plans to keep some American troops in Syria to seize control of the country's oil reserves.
Iranian Foreign Minister Mohammad Javad Zarif and his Russian counterpart, Sergei Lavrov, discussed the issue at a news conference alongside Turkey's top diplomat Mevlut Cavusoglu in the Swiss city of Geneva on Tuesday.
"Well, it seems that the United States is staying to protect the oil," Zarif said ironically. "At least President Trump is honest to say what the United States intends to do," he added to laughter.
Zarif also stressed that the legal presence of both Iran and Russia in Syria will continue until the Syrian government and nation need them.
"Iran and Russia are there on the invitation of the Syrian government, and we intend to stay there as long as the Syrian government and Syrian people want us to be there," he said.
Lavrov, in turn, said that the return of American forces to Syria, after their transfer to Iraq, was "under the pretext of protecting oil deposits" from the Daesh terror group.
He further reminded the US of the illegality of any exploitation of a sovereign country's natural resources.
"The essence is that any illegal exploitation of natural resources of a sovereign state without its consent is illegal and that is the view that we share," he said. "Our US colleagues are aware of our position and we will defend that position."