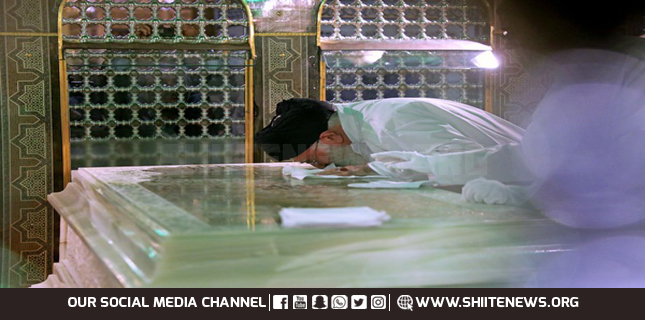 Supreme Leader of the Islamic Revolution Ayatollah Seyed Ali Khamenei joined sweeping and washing of holy grave of the 8th infallible Imam Reza today.
Notably, Ayatollah Khamenei actively participates in Dust Clearing Ceremony at the Holy Shrine of Imam Reza (AS), every year.
Imam Reza, the eighth Imam of Prophet Mohammad (Peace Be Upon Him) Infallible Household.
Most importantly, Dust Clearing remains a religious ceremony done in sacred places of the Muslim World.
Moreover, the ritual includes cleaning, sweeping, washing, and perfume-spraying at holy tombs, mosques, the martyrs' graves, Kaaba and Imam Reza (AS) shrine.
Furthermore, Mashhad-based religious figures and custodian of Imam Reza (AS) Shrine also attended the ceremony.