Iran
US followed 40 years of failed and wrong approach toward Iran: Ayatollah Kashani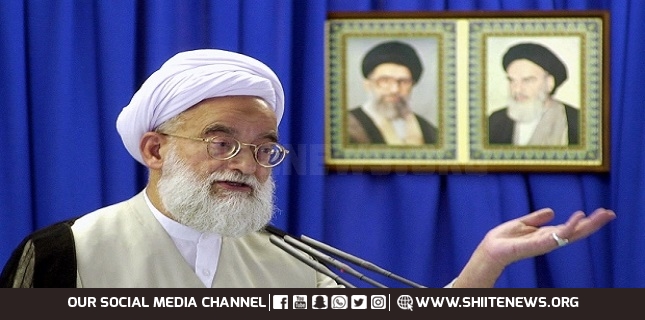 Tehran's Friday prayer leader Ayatollah Kashani says 40 years of US failed approach toward Iran show the way that US politicians chose to engage with Iran is totally wrong.
Speaking at Friday Prayer ceremony on August 23, Ayatollah Mohammad Emami Kashani said "Enemies of our country suppose that if they stand face to face against our people and put tremendous pressure on them, they would give up their goals and turn back to their revolutionary desires; but god willing, the Iranian nation keep moving on their path and we are hopeful about future of this country".
Emami Kashani also referred to Iran's new homemade Bavar 373 Air Defense System and went on saying that "This is Iran's great scientific and military achievement and power authority; as this new system's name cites (Bavar in Persian means to believe and trust) and according to Leader of Islamic Revolution advise, we have to believe in ourselves and trust to our power, we can resist against enemies"
Emami Kashani pointed out that "40 years of US failed approach toward Iran show the way that American politicians chose to engage with our nation is totally wrong and now, even our enemies acknowledge that the greatness of Islamic Republic is rooted in its resistance; thus Iran wants peace with al nations but you have to be strong to encounter enemies and push them back".
"Today we witness incapability and entreaty of US cruel politicians in encountering our nation" he said, adding that "Trump and his allies are weak-minded people and showed their foolishness to all the world, but the Islamic republic is strong and brave and late Imam Khomeini and his successor, Ayatollah Khamenei induced this bravery and courage to this nation".
Tehran's Friday prayer leader said, "By following the Ahlul-Beit and setting their character and lifestyle as a pattern, we will go through all these economic hardships and pressures".
Emami Kashani also advised the prayers for strengthening family foundations.