Iran
America never successful in its regional policies and plans: Hassan Rouhani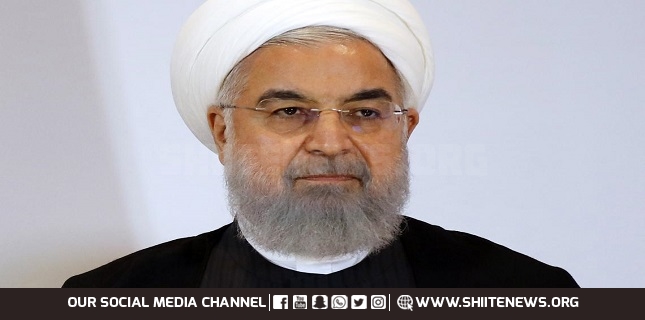 Iran's President, Hassan Rouhani stressed on Thursday that the America has never been successful in its regional policies and plans.
Speaking on Thursday morning at the ceremony for National Defense Industry Day, Hassan Rouhani said, "I hope that Iran's relations with all its friends become stronger than the past in terms of politics, economy, culture, security, and defense". "Last year, HESA Kowsar fighter jet was introduced with a fully domestic body and engine, and its flight was a great gift of the defense industry to the Iranian nation," he said, Report.
He added, "Of course, our defense industry has given the nation other gifts during the year, including new submarines and frigates, which is very important for the country's maritime power". The United States has started a new conspiracy against the Islamic Republic of Iran since 2017, said Rouhani, adding, "First, they were planning for waging a psychological and political war against the nation, and then turned to economic war". "The Americans received some signs in 2017 and 2018, which might have encouraged them to continue conspiracies in these years, but the Iranian nation has never become sad about the enemies' plots against them, standing against the enemies with high spirits," he added.
The conspirators could spark unrest in Tehran and other cities in 2017, said Rouhani, adding, "They thought that the unrest they triggered could last for months, but with the wisdom of the authorities, the security forces, and the police, it was managed in a matter of days". Stating that the Americans put economic pressure on the Iranian nation by withdrawing from the Joint Comprehensive Plan of Action (JCPOA), he said, "The United States' withdrawal means breaking ones' promise and violating international regulations, and economic terrorism". "The Americans thought that if they put pressure on foreign companies and commit economic terrorism against a nation, they would be successful in a matter of months, but they were wrong," said Rouhani.
Mentioning a meeting with a European leader on the sidelines of UN General Assembly last year, he said, "In this meeting, the European leader was quoting the US President that if the Europeans accompany Trump and do not cooperate with Iran, there won't be the Islamic Republic of Iran in three months". "I told that European leader that the person who has made this claim will leave the office and his party will lose its power, but the Islamic Republic of Iran will be there for hundreds of years," he continued.
Rouhani said, "The Americans plotted an economic conspiracy in 2018, which caused instability in the market, making people worried, but the nation resisted powerfully. This year, with the sanctions severer than last year, people have proved that these sanctions cannot be effective". He continued, "A superpower has mobilized all its facilities from CIA to the Treasury, State Department, security forces and all its spies around the world to monitor vessels coming and going from Iranian ports".
The United States has never been this much isolated in terms of politics and legal matters, he said, adding, "The US Secretary of State expressed concerns at the United Nations two days ago that if the JCPOA stands, an arms embargo against Iran will be lifted next year". "We saw with how much grief and concern he expressed this and talked about Iran, but not even one person accompanied the United States; they had not been this much miserable and humiliated throughout the history," he said. The President continued, "Today, all economic, cultural and social indexes tell us that people have more peace and economic stability has increased compared to last year".
He said, "Despite all hardships and unprecedented sanctions, we have opened 11 dams, 30 wastewater treatment plants, and 6 water treatment plants in the country, and added several thousand megawatts to our power production". "Last year, we were not able to export petrol, but this year, we are exporting petrol and diesel. We are exporting gas to many countries and we have had considerable progress in various fields," he said. Stating that the economic pressure has made problems for the people, Rouhani added, "But sanctions and the enemy's economic pressures have made good opportunities for our country's progress and development".