Iran
Iranian drone Mohajer-4, which monitored US warship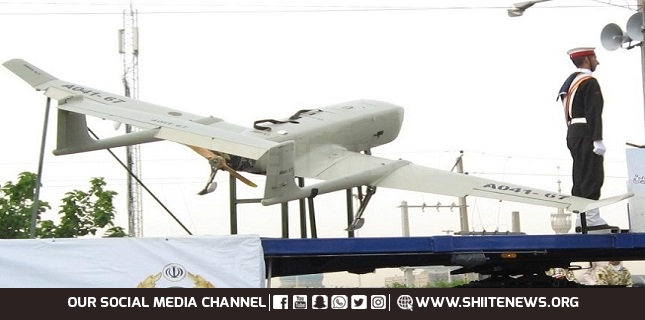 Surveillance images released by the Iran's Islamic Revolution Guards Corps (IRGC) dismissing Washington's claims of downing an Iranian drone over the Strait of Hormuz indicate that the drone in question was a Mohajer-4 surveillance aircraft.
The images, released on Friday, showed the drone monitoring the US navy's USS Boxer amphibious assault ship along with a fleet of accompanying vessels. The Mohajer-4's landing skids can be seen in the video.
US President Donald Trump claimed on Thursday that the drone had been "immediately destroyed" after it flew to within 900 meters the USS Boxer and ignored "multiple calls to stand down."
The Pentagon claimed the warship had taken "defensive action" against an Iranian drone at 05:30 GMT on Thursday, a claim that was challenged by the IRGC drone's imagery.
The aircraft's footage demonstrated that the Mohajer-4 continued its operations well beyond the time Washington had claimed to have downed the drone.
Mohajer-4
The Mohajer-4 drone has been designed for live reconnaissance and target acquisition and can travel at a maximum speed of 200 kmph and identify targets as much as 150 kilometers away.
The drone can operate up to seven hours under the direction of a drone operator or by using a predetermined auto-fight path.
The Mohajer-4's composite body greatly reduces the aircraft's radar cross-section, making it difficult for enemy radar and air-defense systems to engage with.
Various modified versions of the Mojaher-4 drone have also been developed for differing military, geometrical and traffic control purposes.
The Mohajer-6 drone enjoys major upgrades compared to the Mohajer-4 and can carry precision-guided munitions. The drone has successfully been used by Iran in a number of recent anti-terror operations.
The Mohajer family of drones was developed from Iran's indigenous Mohajer-1 that was first deployed during the Iraqi war on Iran (1980-1988).
Iran at the time was in critical need of efficient surveillance aircraft in the face of former Iraqi dictator Saddam Hussien's largely foreign-backed military, to the extent that the CIA was sharing satellite imagery of Iranian troop movements with Baghdad.
Iran is, however, now one of the world's top four or five countries, and the top drone power in the region, according to IRGC Aerospace Commander Amir-Ali Hajizadeh.
Iran's UAV program has expanded in recent years with more than a dozen models operating for a variety of functions ranging from surveillance to intelligence gathering, carrying bombs and Kamikaze operations.
They have been playing a significant role in the fight against Takfiri terrorists as well as monitoring US warships in the Persian Gulf.
Known to be able to hack into enemy drones, Iran currently possesses the biggest collection of captured or downed American and Israeli drones, including the US' MQ1, MQ9, Shadow, ScanEagle, and RQ-170 as well as the Israeli regime's Hermes, Hajizadeh said earlier this year.