Asia
One killed in third day of anti-US protests in Afghanistan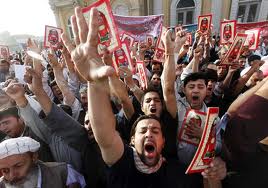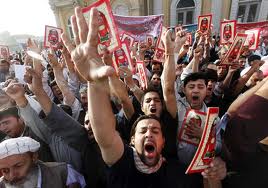 One person has been killed in the third day of protests in Afghanistan in condemnation of the burning of the Holy Qur'an by US-led forces in the war-ravaged country.
Afghans took to the streets in Laghman provincial capital of Mihtarlam, east of Kabul, and in the eastern city of Jalalabad for a third straight day on Thursday following an incident in which US-led troops at the American Bagram Airbase and prison facility burned a large number of Islamic religious materials that included copies of the holy book of Qur'an.
The latest death in Laghman brings to 12 the number of people killed in protests over the past 48 hours. The Afghan interior ministry blamed at least one of the deaths on "foreign guards of Camp Phoenix", a US military base in eastern Kabul.
The anti-US protesters have blocked roads to the capital Kabul and eastern city of Jalalabad. Protests are also underway in Nangarhar province. US Secretary of Defense Leon Panetta has released a statement of apology to the Afghans over the latest case of desecrating the Holy Qur'an by US-led forces.
Brigadier General Carsten Jacobson, spokesman for International Security Assistance Force (ISAF) in Afghanistan, said the incident was an unfortunate mistake. Afghan President Hamed Karzai is set to attend an urgent parliamentary meeting to discuss the situation.