Asia
Hundreds of Indian Shia Mulsims protest against sanctions on Iran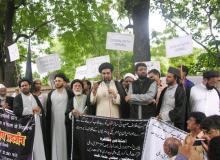 Under the banner of Majlis-e-Ulema-e-Hind hundreds of Shia Muslims gathered at Jantar Mantar in Central Delhi area and staged a noisy protest against the unjustified sanctions imposed on Iran by the European Union and the United Nations "which are
acting like a puppet in the hands of the United States." They urged the UN to lift the sanctions against a peaceful developing country like Iran immediately.
 
They also protested against the atrocities conducted by Israel on the innocent civilians of Palestine and Lebanon, against the drastic shift in the foreign policy of Indian Government in favour of Israel, and against the so-called Muslim countries who are acting as stooges to the United States.
These so-called Muslim countries remain mute spectators to the barbaric acts by Israel supported by the United States and its allies, they said. Expressing solidarity with the victims and oppressed Palestinian people, the gathering lent their voices to protests against the aggression. "The world community should intervene and stop Israel from killing innocent Palestinians," said protestors while chanting slogans against Israel, America and the UN.
Meanwhile, the speakers, including renowned Shia scholar, Maulana Syed Kalbe Jawwad Naqvi, Friday Prayer leader of historic Asafi Mosque at Lucknow, Dr. Hasan Komeli, President Idara Tafheem Islam, and Maulana Syed Jalal Haider Naqvi, President Shaheed Murtuza Mutahari Society, Delhi, while addressing the protestors, expressed dismay over the failure of the World community in preventing the loss of innocent lives in the region.
"For the past many years, the World is watching as a mute spectator the mass execution of innocent civilians including hundreds of women and children by the tyrannical Israelis," they added.
They said the international community in general and the Muslim countries in particular must take immediate concrete action to prevent further loss of innocent lives in the region. "The international community must break its silence on the Israeli onslaught."
"India has been a country of peace and justice. It has always stood by the oppressed and underprivileged. But we feel extremely sorry to see a drastic shift in the country's foreign policy towards Israel", they said while condemning the act.
Carrying banners condemning US, EU, Israel and UN, the protestors marched towards Parliament but were stopped by the security forces nearby.
A memorandum, asking the Indian government to extend political support to depressed Palestinians, was presented to the Prime Minister of India, Dr. Manmohan Singh at the end of the protest.
"India being a political power should take necessary diplomatic actions to create global pressure to stop the barbaric aggression by Israel against innocent people and make Israeli illegal government to solve conflicting issues diplomatically in peaceful manner", said the memorandum.