Asia
Indian Shia cleric writes to UP Home Secretary for removing encroachment from Masjid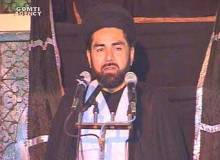 Lucknow: In a letter to the state home secretary on Wednesday, Shia cleric and Imam-e-Juma Maulana Syed Kalbe Jawwad had urged for removing encroachment from Masjid Noor Mahal in Narhi, Hazratganj. Jawwad also lashed out at the local  police for playing partisan role in the episode.
Jawwad in his letter has alleged that the mosque has been illegally encroached which has resulted in resentment among Muslims. "When some Muslims tried to reason out with the encroachers, they registered an FIR against them in Hazratganj police station. This shows that even the local police is playing a partisan role in the whole episode," said Jawwad.
The cleric stated that as holy month of Ramzan is approaching and muslims arrive in large number at the Masjid Noor Mahal, it would be appreciated if the state administration takes initiative to remove the illegal encroachment. "I had requested that FIR against innocent persons should be quashed so that peace can be restored in the area," he added.