Asia
The Guardian Newspaper: Britain cooperated with bin Laden, Al-Zawahiri, and the Taliban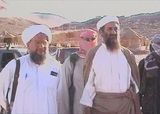 The Guardian newspaper published an article entitled "Bin Laden, the Taliban, Al-Zawahiri: Britain done business with them all", written by Mark Curtis. In fact, it symbolically used the names of bin Laden and Al-Zawahiri, without necessarily meaning that they specifically cooperated  with Britain.
When the London bombing took place, many people believed that the invasion of Iraq inspired it. But the connection between the British foreign policy and the bombing that took place on July 7, 2005 goes much deeper and is stretching back decades, according to Curtis.
The author of the said article sheds the light on some lines of the British foreign policy, which was adopted in achieving its political purposes against the Usuli movements and organizations. This policy was also used against nationalist regimes as the regime of Gamal Abdel Nasser in Egypt, where it was supporting the Muslim Brotherhood against him, also according to the author of the article.
Britain has also supported Harkat ul-Mujahideen (HUM) group in Pakistan, directly and indirectly. Yet, it is noteworthy that one of those who carried out the London bombing had received training in the camps of that group, according to the article.
One of the examples mentioned by the author of the article is the British assistance to Jalalluddin Haqqani during the Soviet presence in Afghanistan; he is now Taliban's military commander.
As a conclusion, the author of the article stated that Britain has often concluded alliances with organizations, movements, and figures to achieve temporary objectives, but they soon turned against it. According to the expression used by Curtis, "Britain has been in the situation of being allied to its enemies."
© Islam Times