Asia
Myanmar: Mass grave found in Rakhine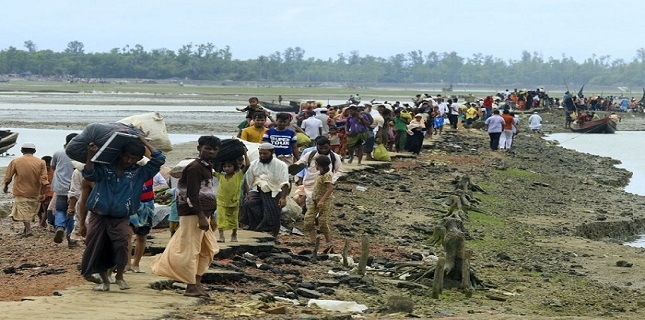 A mass grave has been found in Myanmar, at a location where minority Rohingya Muslims have been the target of state-sponsored violence for over a year.
Myanmar's military and Buddhist mobs have been pillaging Rohingya villages in western Rakhine State since November last year, when a siege was laid to the state. They have been arbitrarily killing, raping, and maiming thousands of the minority Muslims in what the United Nations (UN) has described as "ethnic cleansing."
That campaign intensified in late August.
Of the over one million Rohingya population that lived in Rakhine, thousands died and many more fled to neighboring Bangladesh.
Myanmar's army chief — who has till now resisted international criticism and dismissed the irrefutable accounts of violence against the Rohingya — said on social media on Monday that officers had found a mass grave filled with "unidentified dead bodies found at a cemetery in Inn Dinn Village" in Rakhine's Maungdaw township, where some of the worst atrocities committed by the troops were reported.
Myanmar's army has not only denied all allegations of abuse but also shut access to humanitarian groups and journalists to visit Rakhine.
Myanmar's army chief claimed "strong legal action will be taken if any member of security forces are involved" in the case of the mass grave. He gave no further details.
On Tuesday, Human Rights Watch released a report detailing the army's "systematic killings and rape" of the Rohingya in northern Rakhine.