Asia
South Korea unilaterally bans 18 N Korean bankers ahead of Trump's visit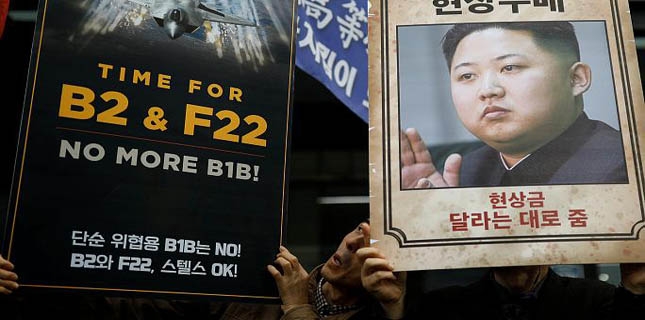 South Korea has imposed unilateral sanctions on several North Korean bankers only one day before US President Donald Trump arrives in Seoul, with Pyongyang's military program high on his agenda.
Seoul sanctioned 18 North Korean individuals based in China, Russia and Libya, accusing them of having links to Pyongyang's weapons program, according to a statement posted on the South's government website on Monday.
"Those individuals have worked overseas, representing North Korean banks and getting involved in supplying money needed to develop weapons of mass destruction," the statement said.
According to the South's Unification Ministry spokesman, Baek Tae-hyun, through these sanctions, Seoul aims to "encourage people to avoid problematic transactions with North Korea and to exercise caution with North Korea-related transactions in general."
"We expect this will contribute to blocking North Korea's main sources of foreign exchange and its developing of weapons of mass destruction," he added.
Pyongyang has been under harsh international sanctions since 2006 over its multiple missile launches and nuclear tests. The UN Security Council, in September, tightened those bans even further after North Korea conducted its sixth and most powerful nuclear test involving a hydrogen bomb.
Seoul's unilateral sanctions against the North are the first under President Moon Jae-in, who had vowed a peaceful approach towards the North Korea issue during his election campaign.
South Korea's close allies, the US and Japan, have also imposed their own bans against the North on several occasions.
Pyongyang has, however, defied all such restrictive measures, saying it would continue to develop its missile and nuclear program as a deterrent against potential foreign aggression.
The North's military program has gathered pace since the inauguration in January of the US president, who has threatened to unleash "fire and fury" against the Asian state.
Trump's visit to Seoul is part of an Asian tour, which took him to the Japanese capital, Tokyo, on the weekend.
Earlier on Monday, South Koreans took to the streets of Seoul in an anti-Trump rally in front of the American embassy in Seoul, calling for the launch of peace talks with the North.
North Korea has reacted to Trump's arrival in Asia by a statement on its state media, through which it called the US president "spiritually unstable" and warned him against making more "reckless remarks" about Pyongyang.
Addressing US and Japanese military forces at the Yokota airbase near Tokyo, Trump once again boasted that "no one, no dictator, no regime … should underestimate American resolve." Trump was apparently referring to North Korea, but he did not refer to county by name.