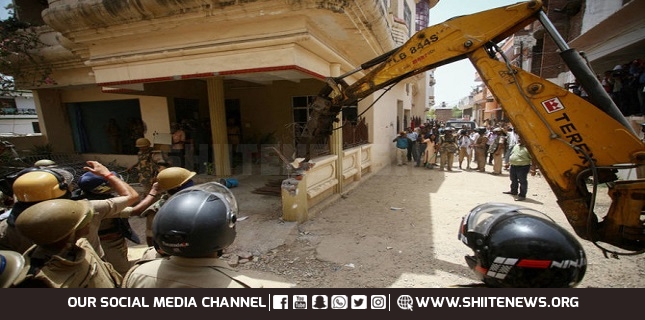 Indian authorities have waged a campaign of demolishing "illegal" homes of more than 200 local Muslims in the state of Haryana, accusing their residents of involvement in an attack on a Hindu procession followed by a deadly attack on a mosque by a Hindu mob.
The campaign, slammed by critics as resembling similar practices by the apartheid "Israeli" regime against Palestinians, came after local media outlets reported that Indian officials razed over 200 structures in Nuh district of Haryana, neighboring India's capital, New Delhi, following the Hindu attack on the mosque that killed five Muslim worshippers earlier in the week and another attack that killed four Muslims on a passenger train.
The violence first erupted on Monday and quickly spilled over into adjoining areas, including the business hub Gurugram, which neighbors New Delhi.
The demolition drive has been met with criticism from some quarters, with many questioning the legality of the move and the lack of due process
Nuh's state lawmaker Aftab Ahmed, a member of the opposition Congress party, questioned the action.
"This is a short [quick] trial taking place, which is not allowed under any law," he said, referring to the fact that it took place before any court convictions.
In recent years authorities in some states ruled by the ruling Hindu nationalist BJP have demolished what they allege as "illegal" houses of people accused of crimes, many of them are Muslims.
The development also came after an Indian railway constable killed three Muslim passengers and a colleague on a train on Monday, in a crime that has been denounced by Muslim and opposition politicians as a "terror attack that specifically targeted Muslims."
Asaduddin Owaisi, the president of the All India Majlis-e-Ittehadul Muslimeen condemned the incident, said, "This is a terror attack that specifically targeted Muslims."
In addition, a Hindu mob set a mosque on fire and shot dead an Imam in India's Haryana state, neighboring the capital New Delhi on Tuesday.
The mosque, located in Haryana's Gurugram district, was set ablaze on Monday night by extremist Hindu elements, who opened fire there and killed an Imam identified as Maulana Saad.
In the wake of the violence, prohibitory orders were imposed in Gurugram, and schools and colleges in the district were directed to remain closed on Tuesday. Curfew orders were also imposed in Nuh where the internet has been also shut off.
Indian Prime Minister Narendra Modi's pursuit of a "Hindu first" agenda since coming to power in 2014 has stoked communal tensions across India.
The latest incidents follow increasing violence targeting India's Muslim minority carried out by Hindu nationalists who have been emboldened by Modi's silence on such attacks since he came to power.