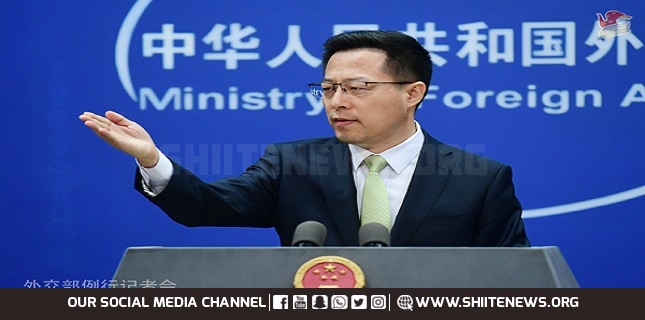 China has expressed "deep concern" over the escalation in the protracted Ukraine-Russia war, urging Western countries to "stop fueling the fire" and warning of the possibility that it could "spiral out of control."
"China is deeply worried that the Ukraine conflict will continue to escalate or even spiral out of control," Chinese foreign minister Qin Gang said in a speech at a security forum in Beijing on Tuesday ahead of the first anniversary of Russia's military operation in Ukraine.
"We urge certain countries to immediately stop fueling the fire," he hastened to add, in a salvo aimed at the United States and its NATO allies.
The top Chinese diplomat also reaffirmed his country's readiness to help in finding a political solution to the simmering crisis.
Beijing would "offer Chinese wisdom for the political settlement of the Ukrainian crisis, and work with the international community to promote dialogue and consultation, address the concerns of all parties and seek common security," he said.
Qin also urged countries to stop shifting the blame to Beijing after US Secretary of State Antony Blinken insinuated that China could be "considering providing lethal support" to Moscow ranging "from ammunition to the weapons themselves."
Beijing on Monday rejected the allegation, accusing Washington of "spreading false information."
"It is the United States and not China that is endlessly shipping weapons to the battlefield," China's foreign ministry spokesman Wang Wenbin said.
Beijing has on many occasions slammed Washington for escalating the conflict by providing Ukraine with large cache of weapons.
The US has provided Ukraine with billions of dollars in military aid since the war broke out in February last year. President Joe Biden pledged more military aid worth $500 million during an unannounced visit to Kiev on Monday.
In an editorial on Tuesday, China's state-run daily Global Times said much attention is paid to the "interactions China and Russia have on this hot-spot issue (Ukraine war) and what signals they may send."
"Some voices from the West are obviously much more than expressing "concern." They are attempting to hijack China-Russia relations through the Russia-Ukraine conflict. They either hype up a China-Russia "alliance," or try to drive a wedge between Beijing and Moscow, saying their friendship won't last long," read the editorial.
"The US has been wearing thick tinted glasses to view China-Russia friendly ties from the very beginning, and has become even more aggressive in this regard after the outbreak of the Russia-Ukraine conflict, as if it has found a "moral" excuse."
Elsewhere in his remarks on Tuesday, Qin called on Western countries to "stop hyping up 'today Ukraine, tomorrow Taiwan'."
"We stand firmly against any form of hegemony, against any foreign interference in China's affairs."
China has sovereignty over Chinese Taipei, and under the One China policy, almost all world countries recognize that sovereignty. The US, too, recognizes Chinese sovereignty over the island but has long courted Taipei in an attempt to unnerve Beijing.
The US, which backs Taipei's secessionist president, also continues to sell weapons to the self-ruled island in defiance of Beijing and in violation of its own official policy, having turned into Taipei's leading supplier of military equipment.