Asia
Indian Muslim brutally beaten by Hindu mob as government-induced sectarian tension deepens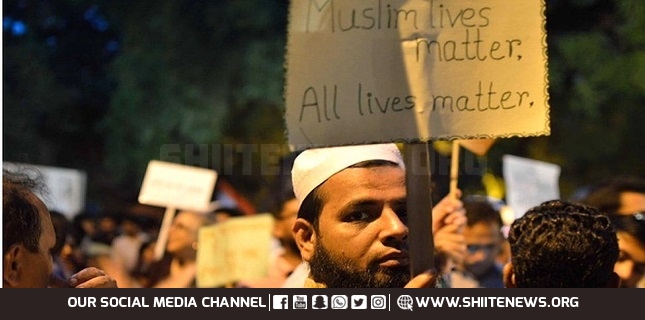 A Muslim man in India has been brutally assaulted and beaten by a Hindu-radical mob on board a train after he refused to say a proclamation used by Hindus.
The video of the incident, which was shared on social media by Shaukat Ali, State President of All India Majlis-E-Ittehadul Muslimeen (AIMIM), showed Asim Hussain, the victim, being stripped to the waist along with being brutally flogged in the walk-way area of the train compartment by unidentified people.
According to Hussain, 46, the incident took place at the Hapur station in Uttar Pradesh, as he was returning from Delhi to Moradabad.
"When the train stopped at the Hapur station, 8–10 people started pushing and shoving, and it was crowded there. At the same time, someone shouted 'This Muslim is a thief', and they took off my shirt and beat me with a belt, pulled my beard and asked me to chant JSR," Hussain explained while speaking to reporters.
"They forced me to chant 'JSR' but I denied."
When Hussain did not cater to his assaulters' demands, he was made to lie down, and then mercilessly beaten with a belt.
"They beat me so much that I almost lost consciousness. Then someone from the same crowd took mercy on me and threw me out when the train reached Moradabad station. After that, someone from the station offered me clothes," said Hussain.
Since coming to power in 2014, India's right-wing Prime Minister Narendra Modi – a lifelong member of the hardline RSS Hindu nationalist group – has emboldened extremist groups that view India as a Hindu nation and consider its 200-million-strong Muslim minority as a foreign threat.
Hussain said when he was being beaten, not a single person came for his help. He also said that the suspects even took ₹2,200 from his pocket.
On the basis of information collected from other passengers, the police nabbed two persons at Bareilly station, later identified as Satish Kumar (23) and Suraj Kumar (25), who work as laborers.
According to Devi Dayal, DSP Morabadad government railway police (GRP), the incident occurred on January 12 and an FIR has been lodged under different sections of IPC (Indian penal code).
"Initially, since an FIR was not yet lodged in the matter, both were booked on charges of breach of peace. They were produced before a magistrate and released on bail," said Dayal.
According to the police, Hussain approached them nearly 24 hours after the alleged incident.
The AIMIM chief strongly condemned the gruesome act and took to Twitter to target the Rashtriya Swayamsevak Sangh (RSS) chief Mohan Bhagwat after the video was widely shared on social media.
"Asim Hussain was thrashed in the train, stripped of his clothes, and forced to chant JSR slogans. RSS's Mohan mentioned "Hazaar Saal Ki Jung", is this proof of the same war? @Uppolice @rpfnr_ should take strict action on this," he wrote on Twitter.
Ever since the infamous Bharatiya Janta Party (BJP), backed by the ideology of the RSS, came to power in India in 2014, Islamophobia and hatred against Muslims reached an all-time high.
Indian trains have become the hotspot for lynching against Muslims, as there have been many incidents reported in past years that manifest the amount of hatred in the hearts of Hindu radicals.
In a similar incident, on June 22, 2017, a 15-year-old teenage Muslim boy, Junaid Khan was traveling home to his village along with his brothers and was mobbed and killed for being what he was: a Muslim, on a moving train, after the attackers discovered that they are carrying beef.
Junaid was knifed multiple times and then thrown out at a station to bleed to death.