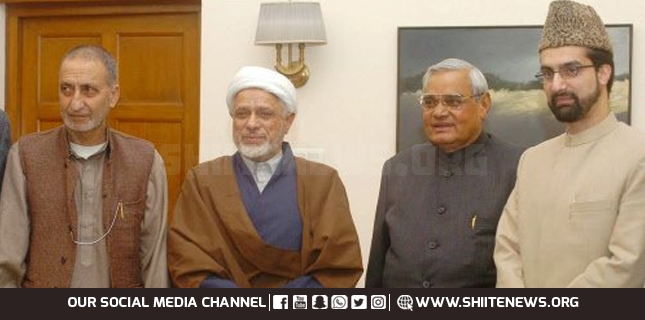 Shiite News: Senior leader of the All Parties Hurriyat Conference, Chairman of Ittihadul Musilmeen, and renowned Shiite cleric Maulana Mohammad Abbas Ansari passed away on Tuesday after a prolonged illness in Srinagar.
According to sources, Moulana Abbas Ansari's health was not well for long time but his condition had worsened for two days, however, he breathed his last at his residence in Nawakadal area this morning.
Maulana Muhammad Abbas Ansari (born 18 August 1936) was a well-known Hurriyat leader of Jammu and Kashmir who was also the head of the Jammu and Kashmir Ittehad Muslimeen. He was politically and religiously active in Kashmir since 1962.
He was a religious leader, a fiery orator and a writer. The deceased was also a former chairman and prominent leader of the All Parties Hurriyat Conference and was among the moderate religious leaders of Jammu and Kashmir.
Late Maulana Abbas Ansari had visited Pakistan a few times, he had met with various political and religious personalities of Pakistan and participated in gatherings.