Asia
Attack on a mosque in Afghanistan, 8 worshippers killed and 12 injured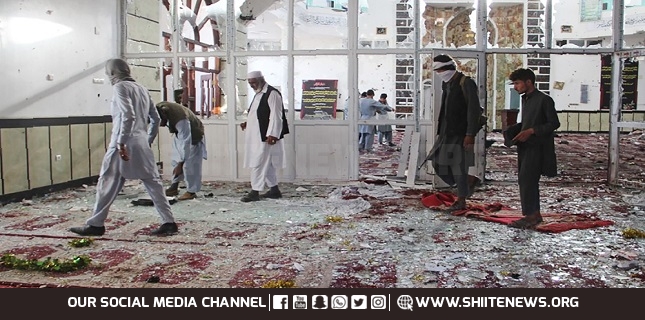 Unidentified gunmen have launched an attack on a mosque in Afghanistan's eastern province of Parwan, killing at least eight worshipers and wounding several others.
Afghan officials said the casualties took place on Tuesday evening when the armed assailants stormed the mosque in Parwan's provincial capital of Charekar and opened fire on the worshipers breaking their fast in the Muslim holy month of Ramadan.
The attack left eight people dead and 12 others injured, with reports saying the gunmen had fled the scene.
No group or individual has so far claimed responsibility for the deadly assault, but the Afghan ministry of interior blamed it on the Taliban militant group.
Earlier on Tuesday, the Taliban launched an attack on Afghan security forces in the northern city of Kunduz, killing eight and injuring several others.
The incident came a week after President Ashraf Ghani ordered the country's military to resume its operation against the militants following a string of deadly attacks on security forces.
The United Nations has warned of an alarming uptick in violence against civilians and a "striking deterioration" in respect for international humanitarian law in Afghanistan.
The number of casualties attributed to violence by the Taliban militants last month rose by a quarter compared to the same month a year earlier to 208, while casualties attributed to Afghan security forces rose 38 percent to 172.
Official data shows Taliban bombings and other assaults have increased 70 percent since the militant group inked a peace deal with the United States in February.
In a horrendous attack last Tuesday, three gunmen attacked a maternity hospital in Kabul, opening fire at pregnant women and newborn babies there. At least 24 people were killed and 16 others were injured before the gunmen were taken out by Afghan security forces.
Under the Taliban-US deal signed in the Qatari capital Doha on February 29, Washington is compelled to pull out American forces and foreign troops from Afghanistan by July next year, provided that the militants start talks with Kabul and adhere to other security guarantees.
The United States and its allies invaded Afghanistan in October 2001 shortly after the September 11 attacks on New York and Washington. While the invasion ended the Taliban's rule in the country, it has failed to eliminate the militant group.
American forces have since remained bogged down in Afghanistan through the presidencies of George W. Bush, Barack Obama, and now, Donald Trump.
Amid the continued occupation, the Daesh terrorist group has also emerged in the Asian country more recently.
-Attack on a mosque