Asia
Muslim refugees in Bangladesh refuse to return to Myanmar without recognition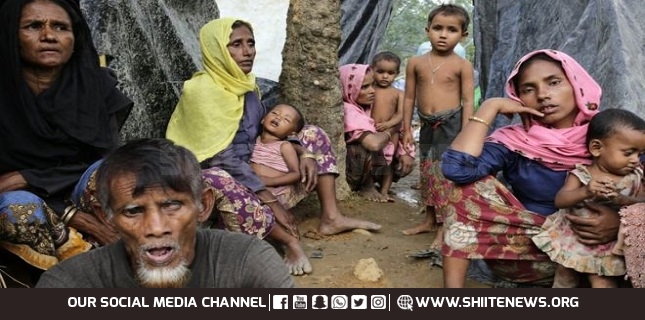 Rohingya Muslim refugees in Bangladesh have refused to return to Myanmar unless they are recognized as an ethnic group with full rights and safety in their home country, where they have faced several decades of persecution.
Rohingya leaders told visiting Myanmarese officials on Sunday that they wanted Myanmar to recognize them as an ethnic group with the right to citizenship before they returned to their native state of Rakhine.
"We told them we won't return unless we are recognized as Rohingya in Myanmar," said Dil Mohammed, a Rohingya leader who met with the Myanmarese officials.
Myanmar refuses to recognize the Rohingya as citizens, and officials even refrain from using the word Rohingya, which means a native of Rakhine, where they had lived for centuries before state-sponsored genocidal violence began in 2017.
Mohammed also said the refugees would not return to Myanmar unless demands for justice, international protection, and the ability to go back to their original villages and lands were met.
"We want citizenship, we want all our rights. We don't trust them. We will return only if international protection is in place," he said.
But he stressed that their ultimate aspiration was to return. "We will return to our own land … (we) don't want to end up living in camps."
The Myanmar delegation, led by Permanent Foreign Secretary Myint Thu, held talks with 35 Rohingya leaders in Bangladesh's southeastern border district of Cox's Bazar on Saturday and Sunday.
The United Nations (UN)'s refugee agency and aid groups are also doubtful about about any return as they fear for the safety of the Rohingya in Myanmar.
Abul Kalam, Bangladesh's refugee relief and repatriation commissioner, also voiced concern about Myanmar's readiness for Rohingya repatriation.
"We are ready to begin the repatriation anytime. It is up to Myanmar to create a conducive environment to allow the Rohingya to return to their homeland," Kalam said.
An Australian think-tank recently said Myanmar has made "minimal" preparations for the return of Rohingya sheltering in Bangladesh.This is the second time Myanmarese officials have visited the camps in an effort to convince the Rohingya refugees to kick-start the repatriation process. In October last year, Rohingya rejected an offer to go back to their homeland when a Myanmar delegation held talks with leaders of the group.
In November, a formal move to start the repatriation process stalled as no Rohingya agreed to return to Myanmar.
Myanmar's western Rakhine State came to global attention in 2017 when the Myanmar military and Buddhist mobs started killing, raping, and torturing the minority group. Thousands were killed in that crackdown and hundreds of thousands of others fled to across the border into Bangladesh.
Last year, a UN fact-finding mission said the campaign against the Rohingya was orchestrated with "genocidal intent."
The Rohingya had inhabited Rakhine for centuries.