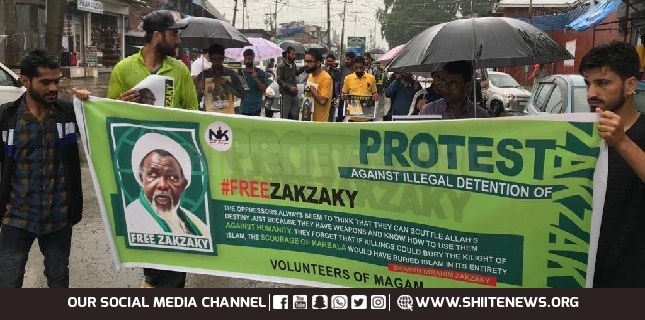 Amid heavy Rainfalls, Kashmiris hold protest rally in Kashmir's Magam area, in Solidarity with Incarcerated, IMN, Leader Sheikh Ibrahim Zakzaky. Hundreds of people joined the peaceful protests demanding urgent release of ZakZaky for medical treatment, report by Muhammad Ummas Rafiq
The participants carried banners calling for the release of the Sheikh, who is the leader of the Islamic Movement of Nigeria (IMN) who has been in jail for more than 4 years now.
The prominent cleric and his wife were taken into custody on December 14, 2015, after deadly clashes between the supporters of the IMN movement and Nigerian army troops.