Articles
The ill-fated people of Parachinar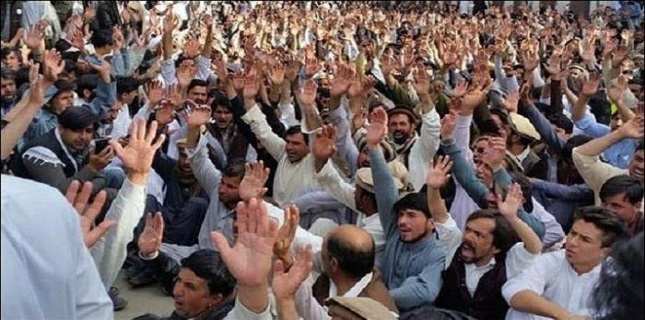 Terrorism across the globe has shattered many countries, homes and families where people are forced to live under stress and fear. The victims of terrorism are confronted with multiple socio-economic crises and psychological complications. The issue is not only that a member of a family is killed in a terror attack but the repercussions of terrorism are more severe and precarious which reflect as an ever-present threat in the tormented psyche of the affected people.
Parachinar must be among the top most affected cities in Pakistan where consecutive bomb blasts, targeted killing and terrorist attacks so far have taken a large number of lives and devastated many homes leaving the families helpless. A report that appeared in a leading English newspaper was painful for me being not only a resident of that region and citizen of this country but also on account of being a human being. The report states "Psychiatrists have expressed concerns over increasing depression, post-traumatic stress disorder and anxiety among the residents of Parachinar owing to acts of terrorism."
Year ago, I was told by a pharmacist doing business in Parachinar that over the last many years the demand for anti-depressants has increased multifold with most of the users being females and members of the younger generation. Apart from medicines the sale of which is strictly on the basis of prescription by registered medical practitioners, many Indian manufactured medicines for curbing anxiety are openly available in markets in Parachinar.
The sole reason of 'terrorism' being the basis of stress which has affected almost every family and every home.
A doctor told me that diabetes, hypertension, kidney failure, indigestion, heart diseases and high blood pressure were rare in Parachinar a decade back, but now every third or fourth person is a patient of one of these fatal diseases. He added that when patients are advised to remain calm and joyous they respond by saying how could they when they had lost a loved one at the hands of terrorist barbarians. I should not be merely referring to my hometown Parachinar, because unquestionably this must be the case with every family living in FATA that is a victim of terrorism and confronted with socio-economic problems due to continuous acts of terrorism.
For the people of FATA who had earlier been living with prestige and respect, it is difficult to bear the loss of one's beloved and then suffer the pangs of dislocation from hometowns, begging for shelter and food, living with women and children under open skies in IDP camps and facing humiliation reported by innumerable local and international journalists.
Diabetes, hypertension, kidney failure, indigestion, heart diseases and high blood pressure were rare in Parachinar a decade back, but now every third or fourth person is a patient of one of these fatal diseases
Undoubtedly, Pakistan is passing through difficult times of its existence face up with numerous internal and external threats and rendering countless sacrifices of its troops and civilians in war against terrorism but unfortunately, the government appears reluctant to take serious steps towards rehabilitation of the victims which is an important need of the hour if we want to see a prosperous and peaceful tomorrow.
Children and women are very sensitive towards fear, threat and terrorism and need special attentions but regrettably no program has been chalked out to rehabilitate these victims to help them face their dilemma with fortitude, resurrect their sense of security and restore their lost happiness.
Can anyone in the rest of the country begin to imagine the pain Parachinar's people have gone through over the years? How many are aware of the fact that in the last decade, thousands of people of Parachinar have sought asylum in different countries, reaching there through perilous routes while putting their lives at extreme risk? How many know about the thousands of inhabitants of Parachinar who drowned when refugee boats sunk in the Mediterranean Sea?
Ignoring the psychological rehabilitation and socio-economic problems will certainly increase inferiority complexes, stress and dejection among the people of that particular area which inhabitants are not only faced with serious threats to their lives but are also being forced to live a miserable life.
How distressing it is that an average, one person killed in terrorism in every family in Parachinar during the past few years and there are widows, orphans and disabilities all around.
Government must pay attention towards the rehabilitation of the people of FATA especially the children by counseling and schooling them properly. Government can rehabilitate the orphan children by opening educational opportunities for them by opening model schools like Army Public Schools in tribal areas and also reserving seats in reputable institutions across the country. The women and disabled need government' serious attentions as stress among them are higher than innocent children and men. For women, the government should open Vocational Centres where widows could be engaged in different kinds of activities like sieving and stitching.
The government must set up a National Rehabilitation Commission comprising highly professional psychiatrists and educationists who in consultation and collaboration with World Organisations working on humanity can formulate a framework for the rehabilitation of victims of terrorism and also a foundation to support the victims of terrorism.
History tells that calamities and disasters have made the nations stronger and progressive if their rulers have the sense of responsibility.
by Riaz Ali Toori