Articles
Who is behind the Quetta carnage after all??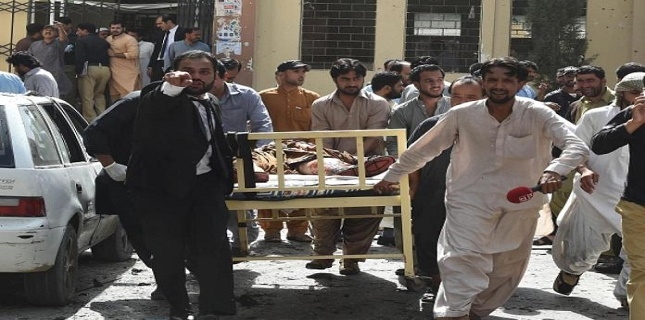 IN the aftermath of Monday's carnage in Quetta, a number of possible perpetrators have emerged, including two militant groups and a foreign intelligence agency. Yet somewhere in between the suspicions of government officials, boastful claims of terrorists and conspiracy theories lies the truth — which only a thorough and transparent investigation can unveil.
Following the gun and bomb attacks, Balochistan Chief Minister Sanaullah Zehri voiced the suspicion that India's Research and Analysis Wing (RAW) could have been behind the tragedy, claiming that the foreign intelligence agency had conducted similar operations before "in Quetta and other areas".
While the role of hostile external actors cannot be ruled out and must be investigated, it was surprising that such a senior official made the statement so soon after the event, before even the preliminary investigations were completed. Surely state functionaries should have solid evidence before publicly making such claims.
However, what was even more confusing were the dual claims made by TTP offshoot Jamaatul Ahrar (JA) and the Islamic State militant group (IS), declaring responsibility for the atrocity. Interestingly, the IS statement was released through the terror outfit's 'news agency', Amaq, claiming a "martyrdom bomber" had carried out the outrage.
There was some confusion whether JA had joined forces with IS, which would have made the dual claims contradictory. However, it appears that Jamaatul Ahrar's alliance with IS was never formal but merely a statement of appreciation, as many within JA's ranks share the sectarian worldview of IS. Moreover, the 'official' Islamic State affiliate in this region is, and remains, IS Wilayah Khorasan, a group completely different than JA.
Of course in the nebulous world of religious militancy, alliances, loyalties and goals are always fluid and subject to change. JA itself is the new avatar of TTP Mohmand. This outfit had also attacked courts previously, in Charsadda (March 2016).
Militants issuing claims and counterclaims is not a new phenomenon. Such tactics have been witnessed before. For example, in the Bacha Khan University attack in January 2016, militant Umar Mansoor claimed the attack, while Mohammad Khorasani, the TTP's 'official spokesman', distanced himself from it.
In another example, both Jundallah and IS claimed the May 2015 Safoora attack, in which over 45 members of the Ismaili community were massacred in Karachi. This is of course not the same Jundallah that is active in the Iranian province of Sistan-Baluchestan. What is more, the Pakistan-based Jundallah has claimed attacks as far afield as France, a claim that many analysts say is difficult to believe.
Orlando shooter Omar Mateen was also praised as a "soldier of the caliphate in America" by IS, though it is not clear how, when and even if IS — based in the deserts of Syria and Iraq — communicated its directives to the security guard-turned-militant in far-off Florida. It may simply be a case of opportunism, as militant groups seek to adopt the attacks carried out by lone wolves and freelancers to boost their own image and 'street cred', while the perpetrators go down in a blaze of glory by linking up to globally active terrorists.
It also appears that various militant groups make claims that are merely red herrings, to confuse investigators, or to secure bragging rights in the world of militancy.
A senior police officer based in Khyber Pakhtunkhwa, requesting anonymity, confirmed this to Dawn. "Militant groups do it [make conflicting claims] for two main reasons: to create confusion or to indulge in point-scoring. Unless law enforcers and intelligence agencies make arrests or analyse explosives or have a [solid] lead, we cannot say" who is actually responsible. "These claims are mostly made to create ambiguity".
Analyst and director of the Centre for Research and Security Studies Imtiaz Gul agrees and adds: Multiple claims are made "to obfuscate the identity of the real perpetrators. It is immaterial who claims responsibility. What is important is that something has been staged to create insecurity".
Mr Gul also observes that delayed claims — for example the claims for the Quetta attacks came several hours after the incidents occurred — "point to the fact that something is fishy".
Perhaps what emerges is the fact that investigators must not rush to make a judgement. While all angles must be studied, paying too much heed to unsubstantiated claims by militant groups may derail the investigations.
Instead of pursuing overly broad claims — some touching on the farcical — it would perhaps be more productive to employ scientific investigation methods and reliable intelligence to uncover the hands behind the Quetta carnage, and the many other tragedies of its kind.