Articles
2015 Golden Year of Axis of Resistance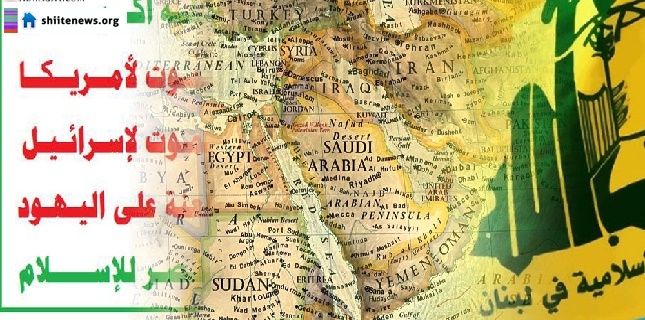 Russia's downsizing of its military presence in Syria, just against the allegations of anti-Resistance Front Western and non-Western sides, signals appropriate advances and relative stability in Syria. It is not just Syria that in comparison to last year enjoys better security and political status, the conditions of Axis of Resistance as a whole are sensibly much better than a year ago. Concerning the issue there are some points to share:
1. In the beginning of last year, the terrorists exposed Syria to an offensive in three fronts of Idlib, Daraa and Homs, making the work highly difficult for the Syrian government and army in northern front Aleppo.
At the same time, Lattakia province was jeopardized by the terror groups for the first time. Furthermore, the scope of crisis expanded to include both Hama and Homs provinces.At that time, the terrorists have launched an attack on Sheikh Maskin town in Daraa, reducing the distance between al-Nusra Front-held and central Syrian government-held areas, posing practically further danger to the Syrian capital Damascus. At the same time, the terrorists fortified positions in the outskirts of Damascus, especially in Western Ghouta. Following the events, which majorly took place in March 2015, the terrorists have gained new strength.
On the opposite side, the Syrian army and the pro-Syrian forces have gotten their spirits damaged. During this period, many have ended up thinking that Syria and its government have neared their end. But the battlefield in Syria soon witnessed fresh gains.
Lebanon's Hezbollah has launched, in March 2015, a successful operation in Al-Zabadani, recapturing nearly 90 percent of the region which is located in north of Homs province and was a weapons supply line for the terrorist groups from Lebanon's Hermel, Tripoli and the coast of the Mediterranean Sea. The terror groups had practically linked Syria to Lebanon through this region. The region was an unmatched strategic position for the terrorists and its recapture by the Lebanese resistant group has broken the back of the terrorists. Hezbollah took back the western mountains region which connects Lebanon's Hermel to Syria's Homs, and thus cutting off the linking lines of the terrorists. The terrorists then accepted a deal which was too much in favor of the Syrian government and too little in their favor, showing that they have accepted their weakness.
According to the accord, the Syrian government has agreed that in some parts of the regions where such groups as Ahrar ash-Sham and Jaysh al-Islam were in control a truce be announced and a safe and undisputed exit of members of these terror groups from some parts of Damascus' outskirts and Al-Zabadani be guaranteed. The Syrian army's operation in Sheikh Maskin town was launched four months after Al-Zabadani deal on January 26, 2016, leading to liberation of this town which is located in outskirts of northern Daraa and has about 800,000 population, dealing another blow to the terror forces. In the operation, the role of the Syrian army and the national defense forces was outstanding.
But, meanwhile, the Operation Nasr 2- or Operation Victory 2 in English-, which had started since October 1, 2015 in the Western regions of Aleppo and reached its climax with recapture of 2,000 square kilometers on January 21, 2016, was a strategic and decisive triumph made by the Syrian forces and their allies. Therefore, the West, the Arab sides and Turkey, which before launching Operation Nasr 2 did not agree with political negotiations, have accepted Damascus government as an unavoidable reality, acceding to going to Geneva and Vienna for peace talks. Russia has entered the Syrian security case more seriously when Operation Nasr 2 was started. It gave an influential push to Syrian government's anti-terror battle. Looking back to the respective gains which started from early September 2015 from Al-Zabadani and continuing to Sheikh Maskin's liberation, it can be well observed that victory has been a dominant condition taking place as a result of coordination of different parts of anti-terror fronts with each other.
Despite the fact that Russia had no hand in designing and launching operations of Al-Zabadani and Sheikh Maskin, all in all, it has managed to offer an effective assistance in the general course of Syria's developments.
Now Syria is enjoying an acceptable degree of stability, and it could have a very decisive year ahead. Such victories, and especially the victory of Operation Nasr 2, have led to surprise of the terrorists' leaders, making their forces less resistant compared to past.
2. Yemen, in late March 2015, was pushed into a ferocious war. On March 26, 2015, the new Saudi Arabian leaders started a war against the Yemenis by launching a heavy bombing campaign, very soon blocking the country from air, sea and ground.
Even months after war of rich Saudis against the poor Yemenis nobody could guess that the offensive could linger for months. Now we see that it has lasted for nearly a year. So far, the Saudi aggression has wounded and taken lives of over 10,000 of Yemenis. On the opposite side, it has left hundreds of Saudi, Emirati, Qatari and Bahraini troops dead. In the first months of the campaign, the Saudis have said that soon they would conclude the war victoriously.
Their newspapers wrote that Sana'a would be the first Arab capital being freed from under the domination of Iran in Operation Decisive Storm and next would come Baghdad, Damascus and Beirut. In the same war, the US supply planes have openly provided the Saudi fighter jets with large-size bombs in mid-air. Also, the Arab countries have rushed to help Riyadh.
The Western countries have adopted the anti-Yemeni Resolution 2216, opening Saudi Arabia's hands to commit war crimes in Yemen. Saudi Arabia has mobilized its entire capabilities and opportunities to obliterate the Yemeni resistant movement Ansarulah.
At the present time and after a year, the kingdom, despite a heavy bombing campaign, has failed to infiltrate Ansarulah's traditional strongholds in the country's Northern provinces. Ansarulah after a year of war, has managed to protect its military units as well as its senior and mid-ranking commanders. Making so much effort and spending billions of dollars, Saudi leaders have struggled to push Ansarulah out of Yemen's south.
The resistant movement finally left south in early August, 2015, but the country's south did not fall to Saudi as well as pro-Abd Rabbuh Mansur Hadi forces, rather, it shifted practically to a battlefield between Southern Movement- Al-Hirak al-Janoubi originally in Arabic- led by Ali Salem al Beidh and Ansar al-Sharia led by Sheikh Abdul Majid al-Zindani. Abd Rabbuh Mansour Hadi, the Yemeni ousted president, who entered Aden using a heavy propaganda campaign, was forced to leave the southern city as a result of clashes between the two warring groups.
Saudi regime had set two red lines in its anti-Yemeni war: Security of its borders and cities and Iran's sway in Yemen. Today, a year after the offensive, a vast part of the three Saudi provinces of Asir, Najran and Jizan is in hold and permanent fire range of Ansarulah. At the same time, the Saudis admit that now Iran's influence over Ansarulah and other active sides in Yemen has remarkably increased in comparison to the initial stages of war. Now after a year, it has become clear that Saudi Arabian attempts to defeat Ansarulah have been made in vain. The countries which few weeks after start of war have joined Riyadh-led coalition, are now criticizing Saudi Arabia and practically detached themselves from the campaign. The UAE, which is considered as major member of the Arab coalition, has practically pulled its forces out of Yemen.
3. Iraq's conditions are now relatively stable. In June 2014, ISIS terror group, by an overt financial, intelligence, weaponry, political and media support by Arab countries, gained control of Diyala, Salahaddin, Nineveh and Al Anbar provinces in Iraq. Additionally, it endangered seriously the provinces of Babil, Kirkuk and Baghdad. Also, the terror organization has captured some parts of Babil and Kirkuk.
At the present time, the cities of Baqubah, Tikrit and Ramadi, three centers of provinces, are freed entirely from ISIS' grasp. Now, Baghdad's threats have totally disappeared and Kirkuk's security situation has improved. It can be claimed that terrorism is defeated in Iraq and it is living its last months. All these achievements are being made with the efforts of the Resistance Front, spearheaded by Iran.
The resistance front, in addition to proving its efficiency and potentials, has won a high moral position among the nations, because just unlike the West and its affiliates, is behavior is based on sacrifice and brotherly assistance in the region.