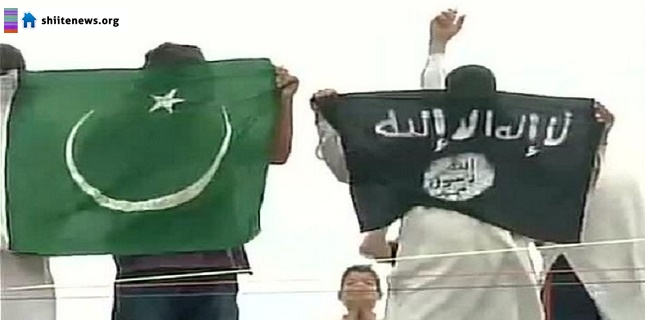 The year began with heady rhetoric from Gen Raheel Sharif. Speaking in Quetta on New Year's Day he stated that this would be the year that terrorism would be eradicated from Pakistan. At roughly the same time, Sindh's counterterrorism department was arresting in Karachi a recruiter for the militant Islamic State group who reportedly sent three young men to fight in Syria. And a day later, across the border, an Indian air force base was attacked by militants. This confluence of events points to the challenges that remain as Pakistan pursues the goal of eradicating militancy.
The government dodged the issue of IS in Pakistan throughout 2015, with senior government and security officials repeatedly denying the group's presence in Pakistan. This despite the Safoora Goth attack in May in Karachi, which was claimed by reportedly IS-inspired militants, the recent attacks against media outlets in Punjab after which IS pamphlets were found at the scene, and the emergence of pro-IS graffiti in urban areas throughout the country. Denial can only serve as a counterterrorism strategy for so long.
The country is likely to have to confront a variety of IS-linked militants over the coming year. Some of these will be defectors from other militant groups that have been weakened by counterterrorism operations and are seeking to regroup and rebrand under the IS banner in the hopes of winning new recruits.
Others will adopt the affiliation in Afghanistan, as seems to be the case with the 13 militants recently detained in Sialkot who were operating a recruiting and training facility for IS. Afghanistan has acknowledged that IS-affiliated militants have been contributing to the country's deteriorating security environment since the spring of 2015, when the group officially launched its Khorasan chapter.
The country is likely to confront a variety of IS-linked militants.
For the most part, IS in Afghanistan comprises former Taliban militants who do not accept the group's new leadership and are opposed to peace talks with the Afghan government. As such, IS in Afghanistan is likely to remain embroiled in local Afghan dynamics and not pose the same threats as the Iraq- and Syria-based group. However, what begins as local and expedient can lead to long-term ideological and security challenges, as our region's history has repeatedly shown.
The greatest danger from IS in Pakistan is likely to come in the form of self-radicalised militants intent on carrying out 'lone wolf' attacks. These might include middle class and educated youth who will be exposed to IS's messaging on social media, as foreshadowed by the arrests in recent years of university students — and even professors — suspected of links with militant groups.
Writing last month in the New York Times, David Brooks recalled Eric Hoffer's definition of radicals to explain the appeal and effectiveness of IS. Hoffer argued that radicals emerge when a society is in a state of decay. They join radical movements because they are frustrated and believe they will not achieve their ambitions, and because in increasingly free societies they have no one to blame for the challenges they think they face.
Summarising Hoffer, Brooks wrote: "the successful mass movement tells such people that the cause of their frustration is outside themselves, and that the only way to alter their personal situation is to transform the world in some radical way." Radicals are thus drawn to movements that criticise the present and instead valorise a glorious past and a perfect future. Potential IS recruits in Pakistan are likely to be vulnerable to radicalisation for the reasons that Hoffer outlined about 65 years ago.
Despite launching numerous counterterrorism operations over the past year, Pakistan has not yet succeeded in introducing new narratives to compete with those of movements like IS. If anything, attempts to replace the appeal of violent extremism with patriotism have led to reiteration of nationalist narratives that themselves have been used to fuel militancy in a regional context.
Which brings us to the other challenge. At the time of writing, the circumstances of the Pathankot attack remain unclear. What more clear, however, is that anti-India militants have a presence on Pakistani soil. These groups also draw on recruits with frustrated prospects who are seeking to alter history through radical means, including violence. The question is whether these groups will in 2016 be counted among the terror organisations that the state is seeking to eradicate.
In light of the above, it would be sufficient if, during the course of 2016, Pakistan acknowledges the persistent complexity of its militant landscape and the challenges that remain in terms of countering terrorism. We need to focus on sustaining our commitment to confronting these challenges, and devote more energy to coining alternative narratives to those that fuel radicalisation. That might be a more realistic New Year's resolution.
HUMA YUSUF
The writer is a freelance journalist.
huma.yusuf@gmail.com