Articles
29th August: 12th Martyrdom Anniversary of "Shaheed Ayatollah Baqer Al Hakeem"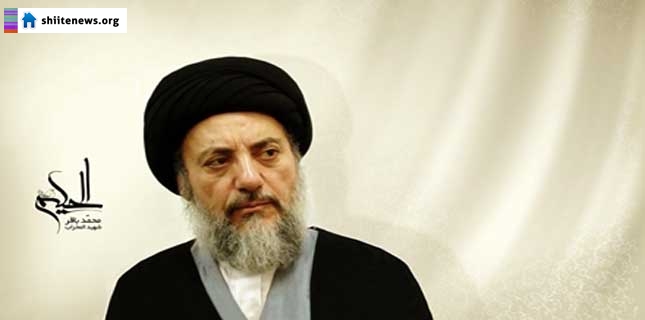 Shaheed Ayatullah Muhammad Baqir al-Hakim was one of Iraq's best-known Shia Muslim figures. He headed the Supreme Assembly for Islamic Revolution in Iraq, most powerful Shia group in Iraq.
Ayatollah Hakim, was imprisoned and tortured as an opposition leader in Iraq during the 1970s and finally fled to Iran in 1980. At the time in Iran, Imam Khomeini (R.A.) founded Islamic Republic in Iran. Ayatollah Hakim spent more than two decades in exile. From Iran, he not only guided
Supreme Assembly for Islamic Revolution in Iraq but also controlled the group's armed wing, the Badr brigade, which had estimated 10,000-15,000 Islamic combatants.
He returned to Iraq in triumph in May 2003, just after major combat operations were declared over by the US. Millions of Muslims welcomed him back in various cities and towns of southern Iraq.
Muslims in Iraq saw him as the best hope of reversing the suppression of their political aspirations throughout Saddam's anti-Islamic rule. He was the best candidate to bring just rule and prosperity to Iraq.
Ayatullah Hakim advocated a modern Islamic state that rejects religious extremism and is independent of foreign powers in Iraq. He also favoured free elections for the country.
The US administration had long been wary of Ayatollah Hakim. When he returned to Najaf, there were fears that attempts would be made on his life by remnants of Saddam Hussein's regime, or by the lawless armed gangs who were said to roam the city.
Five of Ayatullah Hakim's brothers and more than a dozen other relatives were killed during three decades of struggle against Saddam's anti-Islamic Baath party. In 1991, after the first Gulf War, President Bush senior encouraged Iraqis to rise up against their leader. The opposition, including the Kurds of the north, believed this would mean the international community would back a rebellion. The Badr brigades crossed the border into southern Iraq and Shia strongholds, including the holy city of Najaf on the Euphrates, rose in revolt. Lacking international support, it was brutally suppressed by Saddam's army.
His Biography
Ayatullah Sayyid Muhammad Baqir al-Hakim, was born in 1939, is the son of the late Grand Ayatullah Sayyid Muhsin al-Hakim (who was the spiritual leader for the Shia world in the period 1955-1970). The Al-Hakim family is a well known religious Iraqi family loved and respected by millions of Shia Muslims in Iraq and throughout the Muslim world. Sayyid Al-Hakim, was born, brought up and studied religion in Najaf, Iraq (the holy city for Shia in the world). He was a distinguished scholar and the personal religious/political representative of the late Grand Ayatullah Muhsin al-Hakim in Iraq. Sayyid al-Hakim was a co-founder of the Islamic political movement in Iraq established in the late fifties, along with the late distinguished leader Ayatullah Sayyid Muhammad Baqir al-Sadr and other scholars. Sayyid al-Hakim maintained a close association with Ayatullah al-Sadr up to the martyrdom of Ayatullah al-Sadr in 1980. In 1972 Sayyid al-Hakim was arrested and tortured by the Saddam's Baathist regime. He was released after a wide spread popular pressure on the regime. In 1977 he was re-arrested following the people's uprising in February 1977 in Najaf, and immediately sentenced to life imprisonment by special court without any trial. He was released in July 1979 following huge public pressure on the regime.
Sayyid al-Hakim's association with Ayatullah al-Sadr continued after his release in 1979 when Ayatullah al-Sadr was put under house arrest. At this point Sayyid al-Hakim assumed the responsibility of conducting clandestine contact with Ayatullah al-Sadr until April 1980 when Ayatullah al-Sadr was brutally murdered by Saddam's regime. Sayyid al- Hakim then decided to leave Iraq in 1980 shortly after the eruption of war between Iraq and Iran. He played a prominent role in the deliberations leading to the establishment of the Supreme Council of the Islamic Resistance in Iraq (SCIRI) in November 1982. Saddam's regime reacted violently to Sayyid al-Hakim's prominent political activity of SCIRI and arrested 125 members of his family in 1983. Subsequently 18 members of his family were executed. Despite this ordeal and the assassination of his brother Sayyid Mahdi al-Hakim in Sudan in January 1988, Sayyid al-Hakim continued his political activities against Saddam's regime. In addition to his political activities, Sayyid al-Hakim was a leading member of several Islamic associations. He was also the author of many books on Islamic and political thoughts.