Articles
Analysis: Unable to vote in GB polls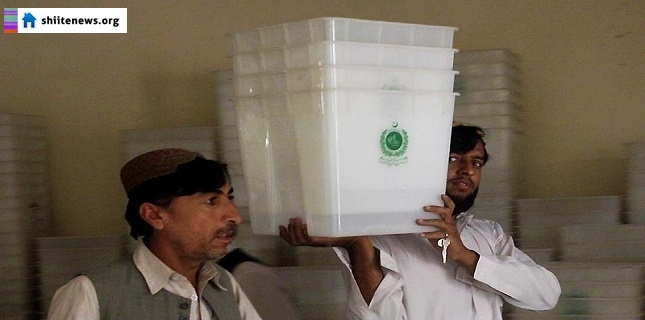 The process to elect members of the Gilgit-Baltistan (GB) Legislative Assembly has been completed. A total number of 6,18,364 voters (3,29,475 male and 2,88,879 female) were to elect their representatives in 24 constituencies, with 272 candidates in the contest.
But thousands of people missed this opportunity because they were unable to reach their far-flung constituencies from the main cities in Pakistan where they are based.
For these people, going back to their native towns to vote means staying away from work and education at least for a week and spending thousands of rupees besides a hectic journey — the journey to GB, known as 'the roof of the world', is no easy task.
"I am one of those almost 200,000 people who could not vote because we are settled elsewhere," said Azam Baig, a development activist from Hunza who is based in Islamabad.
"This was the sixth election that I have missed since 1990 when I left my village for Karachi to seek higher education. Going back to vote means spending at least Rs30,000 per person and being absent from work for at least a week," he added, pointing out that the difficult journey to the area has made a trip to his hometown tough — and just to cast a vote, almost impossible.
"Logistical issues always deprive us from voting. The authorities have not provided the facility for postal ballots, which makes elections in GB useless for us and we are unable to play a role in the development of our area. The government should give us the right of postal ballot, set up polling stations in the cities in which we are based, or it should create three separate constituencies in Karachi, Lahore and Islamabad/Rawalpindi," he said.
A region historically attached to Kashmir, GB gained limited autonomy to legislate in 2009. But representation of the area remains undermined given that many of the locals are unable to vote and have no representatives in the National Assembly and Senate.
Azad Jammu and Kashmir, which has had its own legislative assembly since 1970, on the other hand, has several electoral seats in Pakistani cities such as Karachi, Rawalpindi and Lahore, where Kashmiri refugees from the India-held part cast their votes.
But no such facility has been provided to the people of GB.
"This is a real issue in the election process of GB," says Mudassar Rizvi of the Free and Fair Election Network (Fafen). "There are thousands of people who live outside GB, in other cities of the country, and have stakes in this region. But they are unable to come back and vote here."
"This issue is faced by the overseas Pakistanis, too," Rizvi continued. "The authorities say they can't give the right of postal ballot to the overseas Pakistanis because it is expensive. But here, it's not expensive and people from GB should be given this right. The other option is to allocate 'refugee seats' like the Kashmiri people have in various cities of Pakistan, but I wouldn't go for this because I don't think that a refugee status works for the people from GB."
"Whatever the way may be, people from GB settled in major cities should be given the right to cast their votes at a place convenient for them and we are going to raise this issue from our platform," said Rizvi.
Unfortunately, none of the solutions — postal ballots and the awarding of separate constituencies — appear flawless. The allocation of 'refugee seats', which is used to facilitate Kashmiri refugees, has hardly served its purpose and has largely been manipulated by political parties. Postal ballots, which are reserved for government servants and prisoners, can also potentially be misused by polling staff and politicians with influence over the government and election commission machinery.
"You can't guarantee a 100 per cent true representation to people even if you adopt one of these two methods to facilitate GB citizens for voting. You have to apply really innovative ideas to achieve this purpose because both these practices have already been misused," says Ahmed Bilal Mehboob, executive director of the Pakistan Institute of Legislative Development and Transparency (Pildat).
"What has happened to the seats reserved for Kashmiri refugees? Genuine voters hardly vote in these elections. Often the workers of municipal committees and other government departments vote for them. It's understood that the Kashmiris' seat in Karachi will always be won by the MQM, for example, and that in Lahore by the PML-N," he explained.
"As far as postal ballots are concerned, it is the easiest and cheapest way. But these are mostly misused by returning officers and other staff as they have spare ballot papers with them and replace the original votes sent by voters from distant locations," continued Mehboob.
"But this doesn't mean that we continue to deprive the people of GB of their right to cast a vote. They have been living in various parts of Pakistan for a long time and have registered their present residences to get identity cards. So we have their data and it is verifiable. We must give them a right to elect their representatives through postal ballots, separate seats or any other arrangement. They have already been ignored for a long time and denied representation at the national level," he concluded.