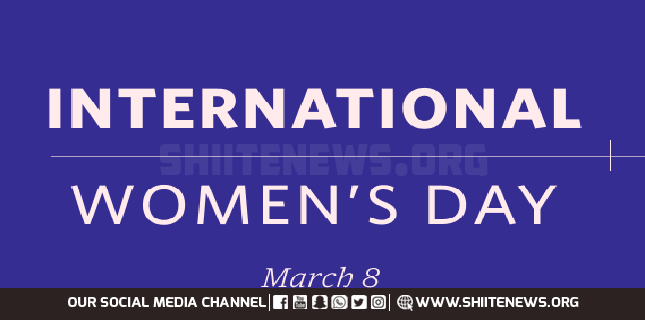 International Women's Day is celebrated every year on March 8 as a focal point of attention to the women of the world.
This day is more than a chance to talk about empowering women. It should become an opportunity to highlight the violation of human rights against women and girls and gender discrimination toward them.
In fact, women are in crisis now more than ever. The crisis can be called inequality of the century.
The situation has been created by the capitalism and Western patriarchal culture, in which the beneficiary is a man and the exploited is a woman.
Powerful yet forgotten!
In the last few decades women have made notable progress in securing their legal and economic rights such as enhancing higher education and improving their status in the fields of politics and society.
As of October 2019, the global participation rate of women in national-level parliaments is 24.5%. In 2013, women held 8% of all national leaders and 2% of all presidential positions. Additionally, 75 percent of all prime ministers and presidents have been women in the past two decades.
Therefore, it is true that the world has shown positive signs with a more open view of women's political and social presence, but these achievements still have not solved the basic and real problems of women.
And not only is it not enough for women, but they also need to be connected more with each other to survive serious identity crises in front of them.
Now, the most important challenge facing women is their freedom from the Western capitalist narrative of women and femininity.
This issue has now put women in a more critical situation with the modern objectification made by the pornography, fashion and cosmetics industries.
"World Women's Report", published every five years since 1990, says after two centuries of female human rights activists, no country achieved the goal of gender equality in 2022, and violence against women and girls is still prevalent in the world.
So, it's true that the world has changed – a little – over the past decade and a half, but it's not enough for women.
More than ever, they need to reinvent themselves and stand up for solidarity against the ever-increasing commodification of the booming pornography, fashion, and cosmetics industries.
Since 1991, with the formation of "The American Dream", the media have been promoting "The Beauty Myth" as a top priority.
It is obvious that "beauty" was considered an effective value and nourished and prospered some industries such as the food industry with 33 billion dollars of income per year; cosmetic surgery industry with 300 million dollars; pornography industry with 7 billion dollars; and cosmetics industry with 20 billion dollars.
And women in this period became victims of the patriarchal capitalist system more than ever.
Another problem in the last few decades is the epidemy of sexual abuse, which still has high rates in the world.
According to the available documents about the status of women, if at one time nearly 800 thousand slaves were transported from Africa to America, now a hundred thousand girls are sold as slaves in America every year.
And people can buy a girl, usually from Latin America or Africa or Southeast Asia, etc., for a price equal to a thousand dollars, 4 times less than the price of a slave at today's rate.
The #MeToo movement in 2017 was also drawing another aspect of rape and sexual harassment of women, especially in the workplace, and condemned it.
On November 30, 2021, the New York Times published a report titled "Like Fresh Meat: Details of Rampant Sexual Harassment in the Australian Parliament."
Also, in the United States, news stories show sexual harassment of women by the police.
Between 2005 and 2015, there were 517 cases of sexual assault by police in the United States, according to Bowling Green State University criminal justice professor Philip Stinson.
Another study found that nearly 1,000 officers in the United States lost their badges for rape and other sexual offenses over a six-year period.
According to statistics, rapes that occur on college campuses are reported in only one out of twenty-five cases. Just as only one percent of sexual rapists in the army are prosecuted.
Oppression or freedom?
Women have been fighting for freedom, equal rights, and gender indiscrimination for more than a century.
But they are still weak, defenseless, and more scattered than ever, wandering and passive in reaching their desired goal.
But the question can be raised from here, why women have not been able to reach their desired and real position after a century of efforts?!
The answer to these questions covers a wide range of issues. However, one of the important aspects that can be considered in answering this question is the dominance of the Western "industrial capitalist patriarchal system" narrative on the identity of Western women and other women of the world.
After removing women from the safe haven of the family to society and the work environment as cheap and low-cost labor, and giving some economic and legal rights, the capitalist system now tries to materialize by drawing a model of sexual and sensual women. They should do something new for the benefit of men.
Capitalism now more than ever with the legendary standardization of beauty and the promotion of sexual models created by its media propaganda, puts women under mental, psychological, and emotional pressures more than ever.
The capitalist system once needed cheap women to build its factories, and now it needs women's beauty and body to develop other industries.
And this is the same vicious cycle that has been realized in capitalism and has made it devoid of moral values because it does not think of anything other than profit.
Yes, when capitalism determines the position of humans in the capitalist system, humans are no longer the same and it is the male gender that is placed above the female gender.
This is the dark well in the western capitalist system that women have fallen into for more than two centuries and still have not been able to get out of it.
Therefore, the important question now is whether capitalism, with its presence in the field of global management for more than two centuries, provide the ground for women's oppression or women's freedom.
By: Fatemeh Saberi