Articles
Media as US military-industrial complex's 'instrument of war' against Iran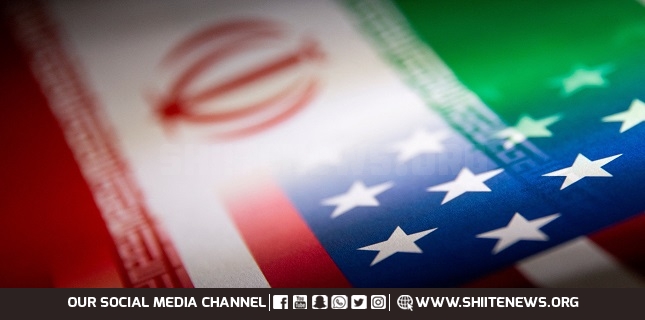 Recently, I was invited to an international conference in the Iranian holy city of Mashhad to speak on how Western powers are using corporate media as a tool of hybrid war against the Islamic Republic of Iran.
It prompted me to reflect on how this noble profession has over the years metamorphosed into an instrument at the disposal of Western hegemonic powers to deceive, distort, obfuscate and vilify "others".
Media, we were told in journalism school, is the fourth pillar of democracy, the watchdog of society and the guardian of public interest. Perhaps that was a key motivation for me to take the plunge – to be the voice of the voiceless, to speak truth to power, to be a catalyst for socio-political change.
Over the years, however, I watched in utter horror the "watchdog" of society turning into a "lapdog" of powerful, rich and mighty. I saw the pillar of democracy crumbling, slowly and shockingly. I witnessed big and powerful global corporations taking control of media houses.
When media loses freedom, it becomes vulnerable to exploitation. Today, as we see, media organizations have become instruments of 'modern warfare' used by the US military-industrial complex against individuals, entities and countries that challenge their hegemony.
The same media has been weaponized today against countries such as the Islamic Republic of Iran. We saw it more recently during the deadly foreign-backed riots in Iran. We have seen it for years in Palestine, Yemen, Syria, and Afghanistan. And we have been seeing it for one year in Ukraine.
Journalists working with mainstream Western media see themselves as paid mercenaries who serve the agenda of foreign security and intelligence agencies.
That's perhaps why we see so much unnecessary hype about Iran's peaceful nuclear program in Western media while there is deafening silence over the Israeli regime's clandestine nuclear activities and hundreds of nuclear warheads.
We have seen how the UN nuclear agency, in utter contempt of its purely technical mandate, continues to leak confidential reports about Iran's nuclear activities to mainstream news agencies like Reuters. It doesn't happen anywhere else.
We have seen the tornado of fake news and misinformation circulating about Iran, not only during recent riots but also over the years – regarding its nuclear program, women's rights, regional activities, and of course the Islamic Revolution Guards Corps (IRGC).
It's amusing that while the Israeli military and Mossad are lionized in Western media, they are adamant about labeling IRGC as a terrorist organization. This is how media warfare plays out with sinister motives and agendas.
How media can be weaponized and used as a tool of hybrid war was on full display in recent riots. The real war was not fought on the streets, unlike the popular perception, but in the media – both news media and social media.
Persian-language media outlets funded by the Western and Arab regimes spearheaded this war against Iran, by instigating rioters, provoking them to attack security forces and civilians, stoking the flames of civil war, and of course to advance the Western agenda of "regime change" in Iran.
It is no secret how Western governments aided and abetted these riots, both financially and militarily, and unleashed their propaganda mills against Iranians.
Be it Masih Alinejad's meeting with French President Emmanuel Macron in Paris or Nazanin Boniadi's meeting with US Secretary of State Antony Blinken in Washington, Western media widely and uncritically covered these events that were essentially aimed at keeping the pot boiling.
And we know fully well how Maryam Rajavi and her Albania-based terrorist cult continue to receive support from Americans and Europeans. That is what they survive and thrive on — anti-Islamic Republic propaganda.
Today, there are run-of-the-mill websites belonging to MKO and monarchists, who have been on an overdrive in recent months, fanning misinformation about Iran. And all these websites, channels and social media pages are funded by the US State Department and some European governments.
Then there are tens of thousands of Twitter bots operating from Albania. Marc Owen Jones, a professor at Qatar's Hamad bin Khalifa University, made an interesting observation recently, which clearly showed that this "revolution" is actually the "revolution of bots".
According to his analysis, a large majority of these social media accounts were created since the riots erupted in Iran in mid-September. And most of them tweeted with the hashtag #OpIran.
A particularly interesting thing about Western media's propaganda during these riots was related to executions. How facts were wilfully distorted and fictional narratives were created to give an impression that Iran's legal system is unfair and judicial verdicts amount to a travesty of justice.
Let's get this straight – no country tolerates violent riots, vandalism of public properties, and disturbance of public order, particularly when the unrest is engineered by foreign forces.
BBC said one of those sentenced to death, Mehdi Karami, was given "15 minutes to defend himself". To generate public sympathy for him, the report described him as "a karate champion", as if that would absolve him of the diabolic crime.
The fact is that Karami murdered a young Basiji volunteer, Rohullah Ajamian, and confessed to his crime in a televised trial. The trial continued for weeks, and he had more than "15 minutes" to present his case before the jury.
Daily Express of UK said an Iranian teenager Makan Davari was facing execution "for protecting women from attack". To generate public sympathy for him, the report said he was "the only son of a single mother suffering from cancer". Facts were sacrificed on the altar of emotional rhetoric.
Even United Nations fell for the propaganda. It asked Iran to "stop sentencing peaceful protesters" to death. As if these people were giving roses and daffodils to security forces in the streets. This is how truth becomes the first casualty during times of universal deceit.
There is a Tsunami of fake news about Iran in both Western and Arab media, which has assumed frightening proportions in recent months. All of it, of course, is designed to poison the minds of people, in and outside the country.
Let me give a few examples. In November last year, in the middle of riots, one piece of news circulated at a dizzying pace. It said: "Iran sentences 15,000 protesters to death". All major newspapers in the West, including the Guardian, New York Times published it without a basic fact check.
More scandalously, the news was even tweeted by the Canadian Prime Minister and some self-styled Hollywood celebrities.
News about Mahsa Amini itself was distorted. Western media claimed she was "tortured" before dying in police custody. Forensic reports said otherwise.
About Nika Shakarami, they said she was hit in the head and her body was stolen. The fact is that her body was found in the courtyard of a building. And CCTV footage showed her entering the building in a perfectly normal condition.
Hassan Firouzi's case was particularly curious. They said he was tortured in jail and slipped into a coma. Some reports even claimed that he was sitting on death row. It turned out to be a case of fraud. Firouzi was caught by security agencies near Qeshm island while attempting to escape.
Armita Abbasi's case is also intriguing. They said she was raped in jail, her head was shaved, and her nails were pulled off. CNN published a detailed "investigative" report about her in November.
However, when Abbasi walked out of the prison recently, she sported colorful dyed hair and flaunted her manicured nails and looked healthy and happy, puncturing CNN's tall claims.
There is another thing that has constantly appeared in Western media's coverage of Iran. It's called 'spin doctoring'.
When news came recently about thousands of prisoners pardoned by the Leader of the Islamic Revolution Ayatollah Seyyed Ali Khamenei, some Western media outlets gave it a crafty spin, with utter disregard for journalistic ethics. "Iran admits to arresting 20,000", they said.
This media and information war will continue and most likely take on new dimensions in the future. But this war, like the economic war, will also yield no result.
By Syed Zafar Mehdi