Articles
Is West Seeking a New Front with Russia, in Georgia?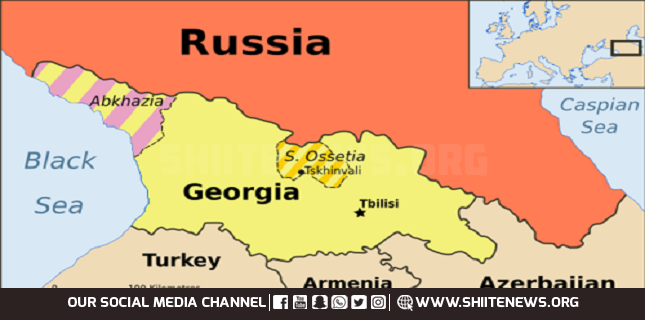 In the tenth month of Ukraine war, the West is seeking new ways to assist Ukraine in order to stop the Russian military operation's advancement machine.
The US and Europe that are losing the Ukraine game to Russia are now eyeing a new front. In this relation, the Head of the Russian Foreign Ministry's Fourth Commonwealth of Independent States (CIS) Department Denis Gonchar said that there have been provocative requests by Kiev and some Western countries to Georgia to open a second front of conflict with Russia. Highlighting the Western pressure on Georgia to involve Russia in a new Caucasus confrontation, this Russian diplomatic official added that regular contacts between Moscow and Georgia, Abkhazia and South Ossetia are necessary. According to this Russian diplomat, in the current situation, the issue of working out a binding agreement on non-use of force with Georgia and the demarcation of borders, which is being discussed by Moscow, Abkhazia and South Ossetia, will be prioritized.
Georgia front already failed
Since the start of war on Ukraine earlier this year, there have been repeated requests from Georgia to open a second front against Russia and retake the autonomous regions of Abkhazia and South Ossetia using force. It seems that Tbilisi leaders are heavily opposed to this dangerous demand and resist it.
South Ossetia and Abkhazia, which are part of Georgia's territory, have been governed autonomously since the independence of this country, and in 2008, Tbilisi planned to restore their control through military action, but Russia did not allow it to implement the plans that were dictated by the NATO. Since then, these two republics are governed independently and Russia is the only country that has recognized their independence. Therefore, the Westerners are trying to once again provoke Georgia to recover its territories so that they can change the developments in Ukraine in the favor of the West.
After the start of the war in Ukraine, the leaders of South Ossetia, fearing that Tbilisi would take advantage of the conflict with the Russians on the Western front, announced their readiness to join Russia, but said that the people should vote on the issue in a referendum.
Most of the people of this region want to join the Russian Federation, and if the West wants to activate the Caucasus front, Russia will react without hesitation and the same referendum that it held in the four regions of Ukraine will be implemented in South Ossetia and Abkhazia to cut off Georgia and West's hands from these two autonomous regions.
Georgia not willing to fight a war
Though since 2008 dreaming of retaking the autonomous regions, the Georgians are hardly willing to start a conflict with Moscow again. On the one hand, they are afraid of a Russian reaction. 95 percent of the Georgians demand a peaceful solution to the border disputes with Russia and are opposed to use of force, according to polls. On the other hand, current Tbilisi leaders are trying to portray themselves as pro-peace and in recent years have not taken any provocative actions and allowed a relative peace to embrace the country.
Contrary to Western claims that Russia is in a weak position and cannot intervene in other fronts, Tbilisi leaders know very well that Russia is now in a position to respond with full force to any provocation incited by NATO in South Caucasus.
Even Mikheil Sakashvili, Georgia's former president who received the Russian warning through the lightening operation on his country, has opposed use of force to take back the autonomous regions. Although Georgia declared its opposition to Russia's military campaign in Ukraine, it did not join the Western sanctions against Moscow and somehow acted conservatively in order to maintain its relations with both sides of the conflict.
No trust in the West
Another issue giving the Georgian leaders a reason not to make uncalculated moves is that they know they cannot count on the Western support in the current situation. As Ukraine war unfolds, many of the US allies are deciphering Washington's real intentions which are nothing but its own interests— something the European leaders have several times admitted.
Another point is that if the leaders of Georgia agree to open a second front against Russia, they should get security guarantees from the US and Europe in order to cope with dangerous consequences of this scenario. But it is certain that NATO members have lost many of their weapons due to the war in Ukraine and their officials repeatedly admit that their arsenals are running out. In such conditions, Georgia cannot bet on the help of the West that cannot even rescue Ukraine from the abyss it put Kiev in.
The difficult path of helping Georgia
Another issue is the aids to Georgia in a possible war with Russia. It is smother to send weapons from air and ground to Ukraine because of the shared borders with NATO members than to Georgia that is isolated from Europe. The aids must either be sent to Georgia through Turkey, which is impossible for the NATO military planes to land in Georgia due to Moscow sensitivity, or through the Red Sea that is currently covered by the Russian air force and missiles and it is highly likely that weapons will be destroyed before delivery to Tbilisi.
NATO member countries believe that Russia has lost most of its military power due to the war in Ukraine and does not have the power to fight on other fronts, and therefore, they are trying to advance their plans by opening Caucasus front for Moscow to retreat from Ukraine and at the same time for Georgia to retake its territories.
Despite the fact that Russia has lost part of its weapons and forces in the Ukraine campaign, the Moscow leaders have repeatedly stated that they have many weapons at their disposal that enable them to confront NATO at its entirety simultaneously.
Russia moved part of its peace-keeping mission from Abkhazia and Souht Ossetia to the Ukrainian battlegrounds and this is feeding the Western thought that Georgia can retake its territories in a lightning attack.
The same thought was made about Crimean Peninsula and the Ukrainians, who are extremely influenced by the West, were optimistic that they could take back the now-Russian territory 8 years after its annexation. But now not only Crimea is at the hands of the Russians but also 15 percent of Ukraine's territory was annexed to Russia following the war. This means that if Georgia starts the same game, it can lose more territory.
The West is dreaming of opening a front in Georgia while they have run into an impasse in Ukraine and in recent weeks have been urging the Ukrainian leaders to return to the peace negotiations with Russia. They know that more crisis works against their interests and a war of attrition is detrimental to them more than to Russia. So, opening a new front with Russia is like going deeper in a swamp in which the Georgians would not step relying on White House's hollow promises.