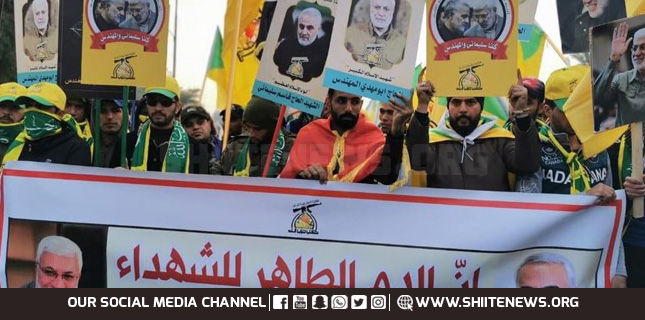 Qassem Soleimani an icon of resistance in Islamic and Arab world finally embraced martyrdom.
Longtime comrade Mohandis Abu Mehdi of Iraq's Hashd al Shaabi also hugged martyrdom alongside him.
The US airstrikes at Baghdad airport early Friday jolted the entire world, let alone Iran Iraq or Middle East.
The reaction from the world capitals shows almost all fears aggravation and heightened escalation. Because, many fears deadly reprisals.
Qassem Soleimani an icon of resistance
Streets in Islamic and Arab world show public love and popularity of Haj Qassem Soleimani.
World bears witness to protest and mourn across the world.
His active front-line struggle as unmatched military leader of axis of resistance spanned over four decades.
US unlawful meddling into Iraq
Legally speaking, US violated sovereignty of Iraq besides violating international law.
Iraq National Security Council had already slammed the US over grave violation of rules governing the US presence in Iraq.
Furthermore, President Barham Salih and caretaker Prime Minister Adel Abdul Mahdi also formally condemned the violation of Iraq sovereignty.
US damn care Iraq sovereignty
However, US took all this for granted and assassinated IRGC Quds Force head Haj Qassem Soleimani and Iraq's PMU commander Mohandis.
Although United States would have calculated everything, yet many around the world see it as US miscalculation. Many also called it huge blunder.
No doubt, it remains an irreparable colossal loss to Iran-led axis of resistance. But, it also turned into blessing in disguise.
The US administration's goal is to deprive Iran of its clout in Iraq. The entire US Iraq policy revolves around Iran factor. To attain that, US funded many groups and sponsored violence in the guise of protest.
Iran anti-US narrative vindicated
However, US airstrikes at Hashd al Shaabi (PMUs or PMFs) and assassination of Haj Qassem and Mohandis vindicated pro-Iran narrative. It gave worldwide favourable publicity to Haj Qassem and Iraq as well as Popular Mobilization Force (PMF).
Now, world bears witness to state funeral of Mohandis Abu Mahdi, Haj Qassem and other martyrs.
Contrary to US narrative, Iran is playing a legitimate role in Iraq at the formal request of Iraq governemnt. Haj Qassem Soleimani also visited Iraq as per Iraq governemnt's request.
Hashd al Shaabi (Popular Mobilization Unit or Force) also remains a legal entity in Iraq. Together with the military advices of Haj Qassem-led Iranian team, PMFs played leading role in eliminating ISIS (Daesh) terrorists.
Credit goes to them for safeguarding Kurdistan, Samarra, Karbala, Najaf and even the capital Baghdad. Otherwise, Daesh (ISIS) came into being in the presence of US. Similarly, al-Qaeda also came into being under the nose of US in Afghanistan in 1980s.
People around the world may recall and refer to Donald Trump's statement in 2016 that then President Obama was founder of ISIS (Daesh).
Hence, Muslim and Arab world says assassinations of Haj Qassem and Mohandis Abu Mahdi as a US revenge for Daesh defeat.
These sentiments and historic funeral rituals in Iraq showed US miscalculated airstrikes raised pro Iran sympathy.
Iraqis will definitely react to US illegal meddling into internal affairs of Iraq. Baghdad may see repeat of the 4th November 1979 Tehran.
Keeping in view the statements from concerned higher authorities, victims heirs and supporters will react with perfect timing. US cannot blame Hashd al Shaabi or IRGC/Quds Force or their allies for that.
Because, politically speaking, according to law of motion every unjust action evokes just reaction.