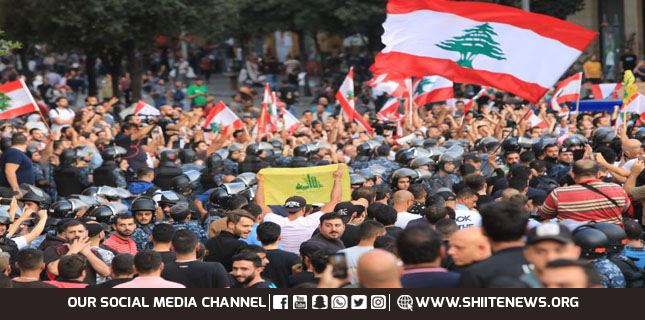 Lebanon protests put external actors to test, instead of Hizbullah. It is what the latest reports from Lebanon lead us to conclude.
Although protests entered 11th day, yet, 11th hour remains invisible.
Western media has been trying their level best to portray a picture to make the world see it protests which Hizbullah opposed. Besides, that angle aims at misleading people that protesters go against Hizbullah.
Lebanon protests put external actors to test
But, ground reality rebuffs all such wishful scenario. Factually speaking, it has put opponents of Hizbullah to test. Here, opponents mean external actors who influence and manipulate Lebanese affairs through proxies.
For instance, Lebanese media has also reported some news which shows a different picture. NaharNet reported: The protesters said the army troops had shot at them after firing tear gas. The army had asked residents of the area to "stay inside their houses until the tensions subside."
Aforesaid news shows Saturday night situation in Tripoli's al-Biddawi. However, Reuters reported: "On a main bridge in Beirut, riot police scuffled with protesters who were sitting on the ground to keep it closed.
"Protesters resisted efforts earlier this week to open some roads, including along a main south-north highway." Same remain situation at Riad al Sulh Square.
Corruption and accountability
Protesters demand economic reforms, including end to corruption but would they back judiciary on accountability.
Where they will stand on accountability of former Prime Minister Najib Miqati family?
Notably, Mount Lebanon State Prosecutor, Judge Ghada Aoun, on Wednesday pressed charges against former PM Miqati, 63 his son Maher. The judge also took up charges against Miqati's brother Taha and Bank Audi, for illicit enrichment. Lebanese official National News Agency reported it.
Attacks on protesters
NaharNet reported Free Patriotic Movement supporters, escorted by State Security agents, assaulted protesters Wednesday evening. It further reported they vandalized the protest encampment in the northern Metn town of Mazraat Yachouh.
Furthermore, a protester said the FPM supporters beat up men, women and even children.
Moreover, they told Al Jadeed TV channel that the said attackers arrived in 50 packed cars.
Conclusion
Citing these some examples for readers aims to elucidate the Lebanon situation. The external actors, such as US, UK, France make statements in support of protesters. So, what sort of help are they extending to Lebanon to meet protesters demands and on what conditions?
What do Kingdom of Saudi Arabia and US, UK and France say on accountability of high-profile politicians such as Najib Miqati?
Why do they not react to army, ISF or police action against protesters to unblock roads? Why do Western media's coverage of Lebanese and Iraqi protests remain different.
In Iraq, Western regimes and media put all blame on Iraqi government and security forces. But, in Lebanon too, security forces are taking action against protesters, like Iraqis do.
These external actors have failed in their controlled chaos both in Iraq and Lebanon. Because, they cannot manage and manipulate all this in their fvaour. They have to choose between protesters and army/government. Supporting protesters means accountability of the corrupt government figures. And those corrupt include allies of these external actors.
That's why facts lead us to conclude that Lebanon protests put external actors to test. Instead of Hizbullah, these external actors and their proxies/allies in Lebanon have fallen to their own plot.
By M S Mehdi for Shiite News Exclusive