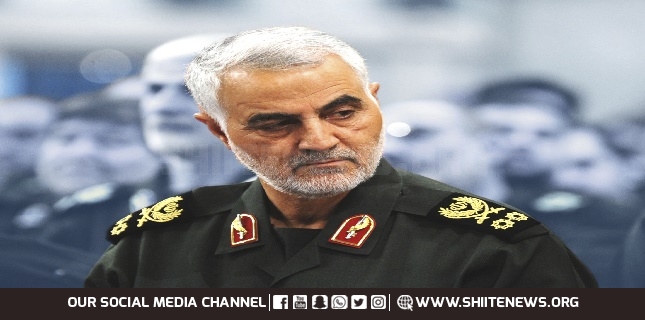 Today, Monday, January 3, 2022, coincides with the 13th of Dey, 1400 AH, the anniversary of the martyrdom of Lieutenant General Qassem Soleimani, commander of the Quds Force of the Islamic Revolutionary Guard Corps.
Lieutenant General Qassem Soleimani, Commander of IRGC Quds Force, was on a visit to Iraq on January 3, 2020, at the official invitation of Iraqi officials, along with the Deputy Head of Iraq's PMU Abu Mahdi al-Muhandis, and eight of their companions when they were assassinated in an airstrike by American terrorists near Baghdad International Airport.
They were highly popular because of the key role they played in eliminating the ISIS terrorist group in the region, particularly in Iraq and Syria.
Martyr Lt. Gen. Soleimani throughout his life, with his blessing as the commander of the Islamic Revolutionary Guard Corps, regardless of nationality, worked for the promotion of Islam and the Holy Quran in support of oppressed nations.
In a message after the martyrdom of Lt.Gen. Soleimani, the leader of the Islamic Republic of Iran said: "After years of sincere and courageous struggle against the devils and evil-doers of the world and after years of wishing for martyrdom for the cause of God Almighty, our dear Lt. Gen. Soleimani attained this lofty status and position and his pureblood was shed by the evilest wickedest of the people of the world."
Ayatollah Khamenei noted that Martyr Soleimani is an international embodiment of resistance and all those who have a heart-felt connection to the resistance seek revenge for his blood. 219
Iran' Leader in his note on the martyrdom of Lt. Gen Soleimani stated that the Iranian nation will cherish the name and memory of the martyr Lieutenant General Qass em Soleimani, together with his fellow martyrs.