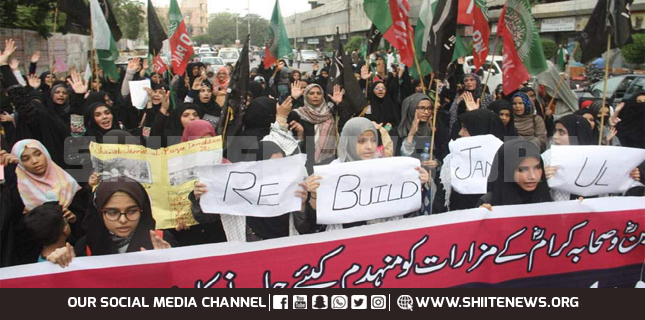 ISO female students took out a rally to express their dismay over Jannatul Baqi demolition on its 94th anniversary.
Imamia Students Organisation (ISO) Talibat Karachi chapter organized protest demonstration at Karachi Press Club to mourn the demolition.
The members and supporters largely attended the protest demo. They were carrying banners and placards inscribed with slogans in favour of their demands.
They called for rehabilitation and revival of sacred Jannatul Baqi graveyard in Madinah (Medina) though reconstructions of the holy shrines.
Apart from ISO Talibat leaders, Sunni scholar Allama Qazi Noorani of JUP-N and Shia scholar Allama Baqir Abbas Zaidi of MWM also spoke.
They lamented the blasphemous razing of historical Islamic heritage. They condemned Saudi monarchy for the demolition which the latter did more than nine decades ago.
The protesters and speakers demanded Saudi monarchy to respect sentiments of Muslims because Muslims revere great Islamic saints.
They reminded the Saudi monarchy that Muslims adore Islamic saints and build shrines and tombs. They also cited that Muslims go to pilgrimage at those sacred shrines to express their love and respect for great saints.
iso talibat jannatul baqi