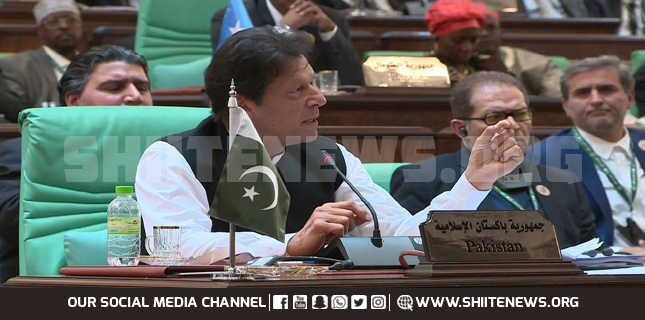 Pakistan defends Palestine and Kashmir at OIC Makkah Summit where Prime Minister Imran Khan spoke on burning issues of Muslim Ummah.
He cited the examples of just struggles by the peoples of Israel-occupied Palestine and Indian occupied Jammu and Kashmir. He said that the oppressors (Israel and India) often maligned the just struggles of Palestinians and Kashmiris as terrorism.
Most importantly, he called upon OIC to make resolute efforts to ensure delinking of legitimate political struggles from terrorism.
The Prime Minister also reiterated Pakistan's unwavering support for Al Quds Al Sharif as the capital of the Palestinian state. He also reiterated Pakistan's unwavering support for return of Golan Heights to Syria.
Furthermore, he urged OIC for active support for Kashmiris right to self-determination under the relevant UN resolutions.
Meanwhile, he spoke on Islamophobia, blasphemy, education and science and technology. He asked OIC Summit to take concrete steps to stop West from blasphemy and defaming Islam.