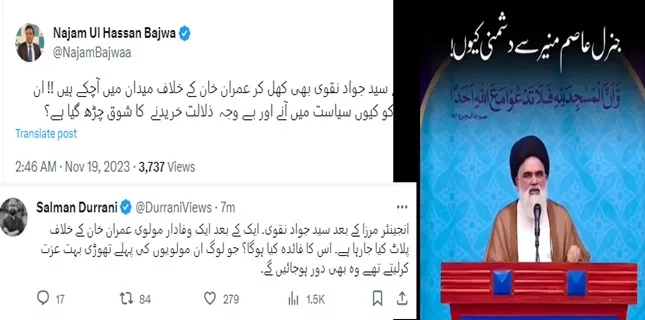 Shiite News: Allama Jawad Naqvi, head of Tehreek Baidari Ummat, remains the center of attention on social media due to his controversial statements.
He has said in his recent statement in the Friday sermon that Imran Khan (IK) went to the neighboring country Iran and gave statements against Pakistan.
His relations with the establishment were damaged due to this misconduct.
He further said that Imran Khan's government came from witchcraft and magic. When the current army chief was the head of a sensitive institution, his relationship with Imran Khan was damaged after Bushra Bibi's corruption was revealed and he had to resign from the post. .
After Allama Jawad Naqvi's serious accusations against Tehreek-e-Insaf Chairman, social media users responded and said that
"Syed Jawad Naqvi also openly come to the field against Imran Khan, why has he become interested in joining politics and getting humiliation for no reason?"
Another user wrote that after Engineer Mirza, Syed Jawad Naqvi is being plotted, against Imran Khan.
What would be the benefit? The people who used to respect these clerics before will also move away.