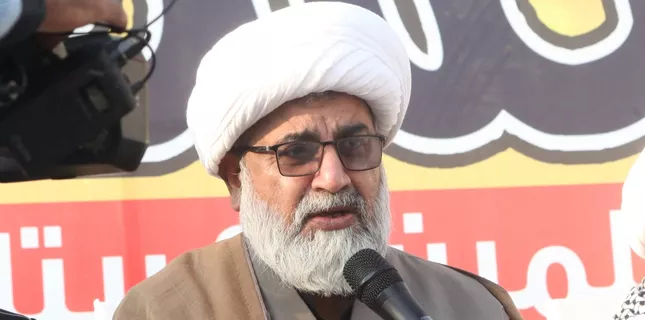 Shiite News: Chairman Majlis Wahdat Muslimeen Pakistan Allama Raja Nasir Abbas Jafari has said in his statement that the people will reject the pro-American political parties in the upcoming elections.
Meeting with the leaders of the different political parties is an open interference in the internal affairs of Pakistan which cannot be tolerated at all.
The current political pundits do not have the power to face the people because of their black deeds, the majority of the Pakistani people want a leader who has a clean past, who pursues an independent foreign and domestic policy, the supremacy of the constitution and the law and national interests.
The real economic disaster of the country happened during the regime of those people who installed the most expensive private power plants, IPPs, which generate electricity by importing oil from other countries.
He said that the most expensive projects were initiated by taking huge external loans, paying the costs of which were very difficult for a country with a weak economic condition like ours.
According to the IMF, Pakistan needs external loans of 25 billion dollars by June 30, 2024, so that it can repay the old loans and meet the trade deficit.
How will these loans be paid now? The sad part is that the incompetent rulers who burdened the country with huge debts are now trying to take a new turn. How will they bear the burden, they are only interested in gaining power.