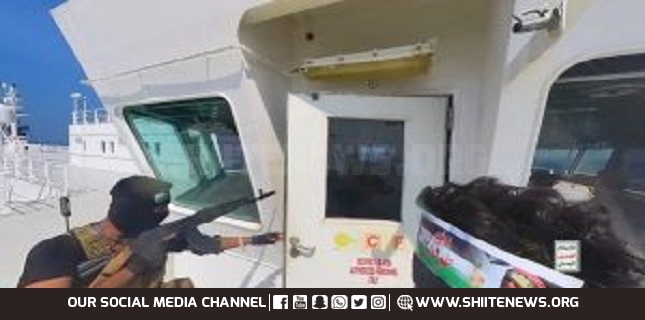 The Yemeni Armed Forces released a footage which shows how the Yemeni navy controlled the Israeli ship on November 19, 2023.
The Yemeni Armed Forces issued on Sunday a statement, indicating that the naval forces of the Yemeni Armed Forces, with the help of God Almighty, carried out a military operation in the Red Sea that resulted in the capture of an Israeli vessel, now harbored on Yemeni shores.
Yemeni military spokesman General Yahya Sarea warned on Saturday that all the types of the Israeli ships will be struck by the Yemeni missiles.
In light of the religious, national, and ethical responsibilities and considering the heinous Israeli-American aggression against the Gaza Strip, characterized by daily massacres and genocidal acts, and in response to the demands of the Yemeni people and the aspirations of free nations to aid our oppressed brethren in Gaza, General Sarea said in a statement..