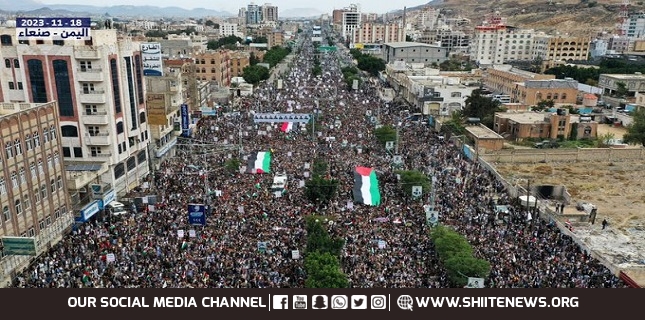 In a powerful display of unity and support, Yemeni provinces erupted in massive morning demonstrations today, Saturday, to stand with the resilient Palestinian people amidst the ongoing Israeli aggression on the Gaza Strip.
Provinces including Saada, Raymah, al-Bayda, Taiz, Marib, Ibb, and al-Jawf witnessed extensive rallies this morning, as Yemenis expressed their solidarity with the Resistance in Gaza. The demonstrators also granted authority to Sayyed Abdul-Malik al-Houthi, the leader of the Ansar Allah movement in Yemen, to take necessary measures in support of the Palestinian people.
The momentum of support continues to grow as the Yemeni capital, Sanaa, and several provinces prepare for afternoon demonstrations today, further amplifying their unwavering support for the Palestinian people and their Resistance.
The solidarity displayed by Yemenis in these mass rallies serves as a powerful reminder of the global outcry against the Israeli aggression and the unwavering support for the Palestinian cause.